Trommel sand washer for sand gravel separation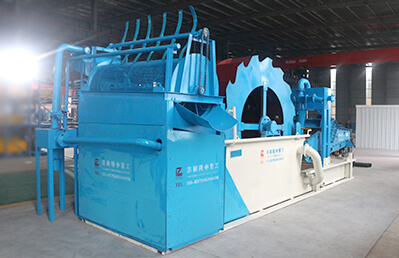 This equipment combined sand washing machine and trommel screen
According to the needs of customers, the matetials should be grading and screening before washing and dewatering. LZZG designed this new type of screening and washing machine.  It compact sand washer with trommel screen, increase the working efficiency.
Application Industry: mining, aggregate processing, piling mud, river dredging, city construction waste incineration, ceramic raw material, gravel washing, river sand washing, tailings disposal and other industries.
Working principle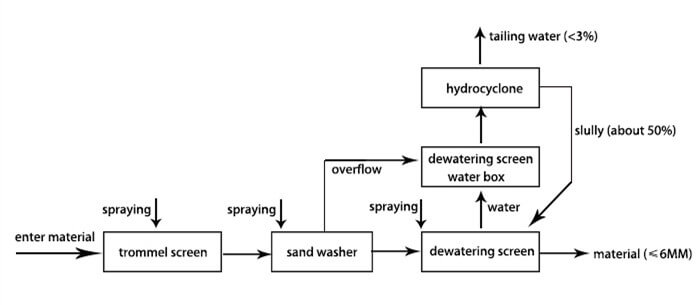 Screening: The Trommel Screen is also called rotary screen or drum screen, which screening the material into different size. Washing: The bucket is driven by the motor through the reducer and rotates in circle. There are many sand storage web grooves and bucket screen for sand storage and primary dewatering. When the bucket moves, sand can be put out by sand storage web groove after being cleaned in the cleaning tank and primary dewatered on the bucket screen. Recycling: Flowing slurry water is extracted by slurry pump, fine sand is collected by the centrifugal force of the cyclone, then fed to the polyurathane screen from the apex spray. The 0.16-3mm fine sand and water are efficiently separated through the vibration screen. Dewatering: coarse sand (3-10mm) and fine sand (0.16-3mm) are fed onto polyurathane vibrating screen for dewatering.
Product Features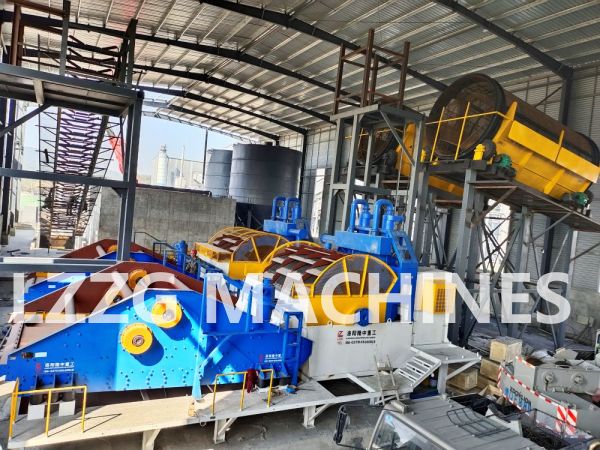 1.Flexibility, high production rates, serviceability and low maintenance.
2.Compact structure, saving land area.
3.High efficiency and cost saving.
Technical parameters
| | | | | | | | | | |
| --- | --- | --- | --- | --- | --- | --- | --- | --- | --- |
| Model | Feed Size (mm) | Capacity (t/h) | Roller Size (mm) | Impeller Size (mm) | Hydrocyclone (mm) | Screen Panel (mm) | Power (kw) | Weight (kg) | Overall Size (mm) |
| SX10-18-55-1224 | ≤10 | 20-40 | φ1000 | 1800*800 | 250*2 | 1200*2400 | 32.4 | 7200 | 6800*4980*2950 |
| SX10-26-65-1530 | ≤10 | 30-60 | φ1000 | 2600*1200 | 300*2 | 1500*3000 | 43 | 9600 | 7450*5600*3050 |
| SX12-30-75-1842 | ≤10 | 40-80 | φ1200 | 3000*1600 | 350*2 | 1800*4200 | 59 | 14600 | 4800*5800*3300 |
| SX12-30-75-1842J | ≤10 | 60-100 | φ1200 | 3000*1600 | 350*2 | 1800*4200 | 63 | 16850 | 4800*5800*3300 |
| SX12-30-120-2442J | ≤10 | 80-120 | φ1200 | 3000*1600 | 300*2 | 2400*4200 | 93 | 18600 | 4800*6200*3300 |
| SX15-36-120-2442J | ≤10 | 100-150 | φ1500 | 3600*2000 | 300*4 | 2400*4200 | 100.5 | 22600 | 5800*6200*4000 |
| SX18-36-140-3048J | ≤10 | 120-200 | φ1800 | 3600*2400 | 350*4 | 3000*4800 | 130 | 25720 | 6700*7200*4600 |
| SX24-42-180-3660J | ≤10 | 160-250 | φ2400 | 4200*3000 | 300*6 | 3600*6000 | 171 | 34300 | 6700*7200*4600 |