Working principle of Trommel Screen
The trommel separator is tilted on the rack. The motor is driven by the reducer to rotate the drum unit around its axis. After the material enters the drum device, due to the tilting and rotation of the drum device, the material on the screen surface is flipped and rolled so that the qualified material (the product under the screen) is discharged through the discharge port at the bottom of the drum screen, and the unqualified material(the product on the screen) is discharged through the discharge port at the tail.
For dry material, trommel screen is turned over to make the material and the screen effectively contact, and the dry material can be quickly screened.
For wet material, the machine drives the wet material to roll, so that the materials are thoroughly mixed with the air, making them drier, facilitating screening and reducing the blockage of the screen.
Materials trommel screen can separate
The rotary screen is sieved by gravity centrifugal force. A suitable material for the drum screen
Sand stone, fertilizer, Ceramsite, Compost, Food Waste, Glass, Plastic, Topsoil, Wood Waste.
Application Field
Trommel screens are often used for screening aggregates in sand and gravel fields. They can also be used in coal preparation, mining, building materials, electric power, highways, metallurgy and other departments, especially for materials with relatively high viscosity.
1. Stone yard for grading of large and small stones, and separation of soil and stone powder.
2. Coal industry for the separation of lump coal and pulverized coal and coal washing (part of coal washing machinery)
3. In the chemical industry, the beneficiation industry is used for grading and separating powdery materials.
4. For urban waste sorting
Features
The rotary drum screen is specially developed for power plants, coking plants, building materials, metallurgy, chemical industry, minerals, and other industries. It overcomes the problem of screen clogging in the screening of wet materials by circular vibrating screens and linear screens and improves the screening system. Yield and reliability. The sieved sand and gravel materials can be automatically separated, and are ideal materials for manufacturers such as buildings, highways and cement building prefabricated parts. The trommel screen has a hopper bin.
 The screen hole is not easy to block.
 Running smoothly and the noise is low.
 The structure is simple and the maintenance is convenient.
 The rotary trommel screen can be closed, and easy to collect dust.
 Various plate and mesh sizes
 Screen drums made to customer specification.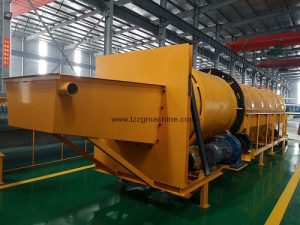 Specifications - Trommel Screen
| | | | | | | | | | |
| --- | --- | --- | --- | --- | --- | --- | --- | --- | --- |
| Model | Sceen size (m) | Angle (°) | Rotational speed (r/min) | Mesh size (mm) | Max feeding size (mm) | Capacity (t/h) | Power (kw) | Weight (kg) | Dimension (mm) |
| GT1030 | φ1.0*3.0 | 6 | 22 | 5-15 | ≤40 | 30-100 | 4 | 1300 | 4500*1358*2336 |
| GT1040 | φ1.0*4.0 | 6 | 22 | 5-15 | ≤40 | 30-100 | 4 | 1500 | 5500*1458*2336 |
| GT1230 | φ1.2*3.0 | 6 | 22 | 5-15 | ≤40 | 30-150 | 5.5 | 1500 | 4500*1585*2478 |
| GT1240 | φ1.2*4.0 | 6 | 22 | 5-15 | ≤40 | 30-150 | 5.5 | 1700 | 5500*1685*2478 |
| GT1540 | φ1.5*4.0 | 6 | 17 | 5-15 | ≤40 | 30-200 | 7.5 | 2500 | 5800*2100*4400 |
| GT1560 | φ1.5*6.0 | 6 | 17 | 5-15 | ≤40 | 30-200 | 11 | 2700 | 6800*2200*4400 |
| GT1860 | φ1.8*6.0 | 6 | 11 | 5-15 | ≤40 | 30-250 | 18.5 | 5010 | 8486*2100*4673 |
| GT2160 | φ2.1*6.0 | 6 | 10 | 5-15 | ≤40 | 30-250 | 22 | 6360 | 8486*2500*5000 |
| GT2460 | φ2.4*6.0 | 6 | 9 | 5-15 | ≤40 | 30-300 | 22 | 7000 | 8486*2860*5200 |
| GT2480 | φ2.4*8.0 | 6 | 8 | 5-15 | ≤40 | 30-300 | 22 | 7500 | 8700*2860*5700 |