The belt sludge filter press will contact the sewage and sludge during the working process, which will easily lead to the phenomenon of rust on the belt sludge filter press machine. Therefore, it is necessary to do well before the belt sludge filter press works. Anti-corrosion measures, please see the following for specific methods:
1. Steel surface treatment to remove dirt and rust layer. It is mainly oxo generation skin, it is the anode of electrochemical corrosion, it is the root source, so it must be cleaned to achieve the surface treatment of sa2.5 level, and then proceed to the next step.
2. The special anti-corrosion paint for painting is divided into three steps, primer, middle layer paint and top coat.
Because the belt type sludge filter press is inseparable from the waste water and sludge, the waterproofing, anti-oxidation and anti-electrolyte penetration coating are added during the painting, thus realizing a heavy anti-corrosion coating system. The anti-corrosion measures of the belt sludge filter press housing can be avoided, and the phenomenon of rust stains can be avoided in the future use.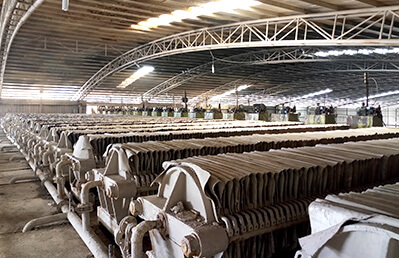 Belt filter press
The belt filter press is a part of sludge treatment system. The belt filter press will also make a sound when it is running, but often using the equipment will find that the motor sometimes makes an abnormal sound. What is the reason? Let's take a look at it with Xiaobian:
1. The motor of the belt filter press is aging, and the load can not be eaten.
2. The high pressure oil pump of the belt filter press is damaged. The high pressure oil pump is generally a plunger pump. If the hydraulic oil is abnormal or has a long life, the plunger is damaged.
3. When the hydraulic station is installed, the couplings are not concentric. If the coupling is not properly placed, the motor will swing too much and the load will increase.
Since its inception, lzzg quickly occupied the global market by its reliable product quality and perfect after-sales service. The sand washer, sludge treatment system and dewatering screen are exported to Europe, Australia, North America, South America, Southeast Asia, the Middle East, Central Asia, Africa and other countries.