Mobile slurry treatment Station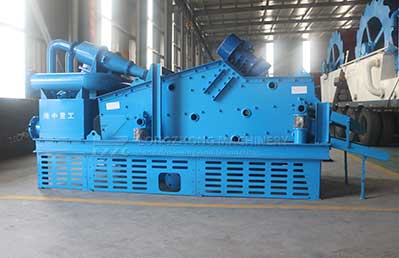 the drilling mud purification system is removable, environmentally friendly
LZYN series mobile slurry treatment station is widely used in the purification and recycling of slurry for the construction of hydro power, continuous concrete wall, slurry shield tunnel, etc, which was designed and applied to multi-site operations according to actual requirements is increasingly becoming a necessity of civilized construction since it not only can cut down construction cost, but also can reduce the pollution of the environment.
This slurry treatment machine is designed for the mobile station, it usually assembled with a boxcar.
Working principle
Mud to be processed will come into the lower layer of sieve machine through feeding pipe, The lower sieve plate (hole seam is 5mm) sieves the large particles whose size is more than 5mm, small particles of material will come into the tank under the sieve with water, and then through the slurry pump, they are fed into the high pressure separator that can concentrate and separate the solid particles.
The slurry reached about 50% flows out from the bottom of separator and get to the upper screen , the sieve plate (hole seam is 0.16mm) can complete dehydration operation and realize the mud drying.
The waste water less than 3% of the suspended matter flows into the water tank from the overflow of the separator, and then is discharged through the discharge pipe.
Product Features
1. High mud handling capacity, sand can be removed efficiently.
2. Slag charge screened by advanced straight-line vibrating system is effectively dewatered.
3. The polyurethane screen has many advantages such as easy operation, low trouble rate, convenient installation and maintenance.
4. The adjustalbe vibrating force, angel and mesh size of the vibrating screen enable the equipment possess a high screening efficiency.
Technical parameters
| | | | | | | |
| --- | --- | --- | --- | --- | --- | --- |
| Model | Capacity (m³/h) | Power (kw) | Electronic-controling | Screen size (mm) | Weight  (kg) | high pressure separator |
| LZYN1020 | 120 | 2.2*2 | Chint electric appliance | 4640X2050X1800 | 3300 | FM250*2 |
(usually customized)