Screening equipment for calcium carbonate, kaolin , silica sand

May.18,2019
The special vibrating screen for kaolin is a screening machine widely used for classification, washing, dehydration, and de-intermediation of kaolin, alumina and quartz sand. The linear vibrating screen has the advantages of high production efficiency, good classification effect, and convenient maintenance.
During the work process, the dynamic performance of the vibrating screen directly affects the screening efficiency and service life. Kaolin vibrating screen is a high-efficiency new type of screening equipment, widely used in mining, coal, smelting, building materials, refractory materials, light industry, chemical industry, and other industries. We will have professionals to provide you with comprehensive, systematic and real quotes.
Kaolin screening process
The screening process of the kaolin vibrating screen is wet screening. First, the kaolinite ore is made into a slurry of micron-sized or below unit particles, and a dispersing agent is appropriately added to dissociate the mineral in the water so that the high-collar stone and the impurity mineral in the kaolin are obtained. It will be divided into three different grades of fine, medium and coarse, and the pure kaolin mine will be screened out by the sieve level of the vibrating screen.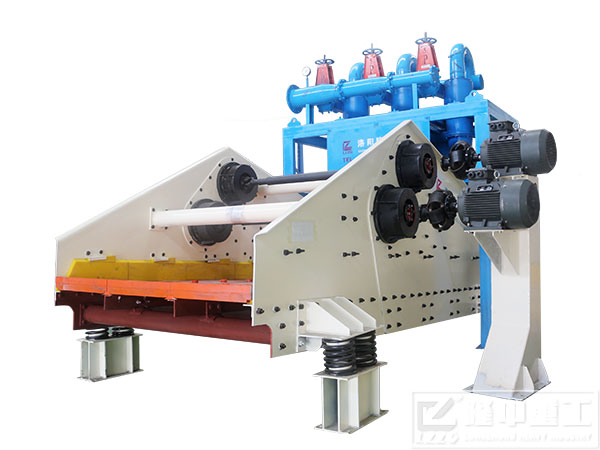 Features & Advantages
1. The material of the vibrating screen sieve is made of high molecular polyurethane, which is resistant to impact, low temperature, abrasion, chemical corrosion, self-lubricating and absorbing impact energy. The impact resistance is high in all plastics. The wear resistance is better than that of polytetrafluoroethylene, nylon, carbon steel and other materials.
2. The vibration motor of the kaolin dewatering screen is easy to replace, and the rubber spring of the base is used for shock absorption so that the amplitude is not large, the vibration is slow, and it can be cleaned off.
3, dewatering screen can be customized according to the output and water content, the side panel of the fuselage has a reinforcing plate, the bottom is equipped with support, the bottom is marked with a horizontal bar, the discharge port is supported by a triangular steel plate, and the plate is thick.
4. The vibration motor is fixed with high-strength bolts, and the bottom spring is rubber spring. The quality of the spring will affect the life of the vibration motor. The sieve plate is fixed in a high density, and the sieve plate is provided with reinforcing ribs.
5. After the welder has welded, the weld hole will not appear strictly, and the bottom is supported by channel steel.
6. In addition, the sieve hole can be adjusted according to needs, the equipment noise is small, and the dewatering effect is good.
7. Before delivery, the staff will debug it, whether the vibration motor is normal, and whether the vibration exciter is running well, to ensure the factory output is guaranteed for the customer.