GP Tailings Dewatering Screen
GP Tailings Dewatering Screen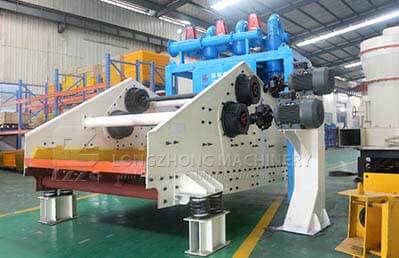 Mine tailings disposal, Tailings disposal methods
The high waste water content of tailings is one of the main areas of concerning for the mining industry now, and mine operators are increasingly adopting all kinds of tailings disposal methods to minimise the impact of the tailings on the environment.
GP tailing dewatering screen is specially designed for mineral tailing recycling, which combines the characteristics of mineral tailing with high frequency sieve. The dewatering unit consists of hydrocyclones, linear motion vibrating screen, slurry pump and attachments.
Application:It is mainly used for iron ore, copper, gold and aluminum ore tailing dehydration. It is a new type tailing recovery machine.
PDF Download Gallery Send Email export@lylzzg.com
Get The Price
Working principle
GP series mine tailing screen is driven by two vibrating motors, which make the screen sieve move to-and-for on line to achieve the filtering purpose. With the vibration of the screen, the concentrated tailing materials are continuously threw up and down on the screen, and the materials are loosen and crashed to the sieve, the small size materials are filtered away from the sieve holes. Finally it reaches the aim of classifying, dehydrating and desliming.
Features
1. High efficiency, strong vibrating force and large capacity.
2. Simple structure and easy operation and maintenance.
3. 45°angle install increases the dewatering area.
4. Vibrating frequency is adjustable to meet different ores.
5. Torsional shear type high strength bolts are used between side plates and beam. No weld gap avoids side plates cracking during vibrating.
6. Polyurethane screen with better elasticity and less blocks. The PU side push plates protect the equipment from the rushing material and guard the long life of the whole device.
Specifications -
Model
Motor power (kw)
Cyclone
Capacity (m³/h)
Production (t/h)
Feed size (mm)
Screen parameter
Weight (kg)
Dimension (mm)
Screen size(mm)
Screen material
GP1530J-65
3.0*2
300*4
120-180
80-120
≤10
1500*3000
PU
3500
3250*5560*3000
GP1836J-75
5.5*2
350*2
160-240
100-140
≤10
1800*4300
PU
5600
4000*5560*3520
GP1842J-100
7.5*2
250*4
200-280
100-140
≤10
2400*3700
PU
6120
4600*5560*3520
GP2442J-100
7.5*2
250*4
200-280
140-180
≤10
2400*4200
PU
7961
4600*6050*3600
GP2448J-120
15*2
300*4
240-360
140-180
≤10
2400*4800
PU
8830
5220*6050*3600
GP3048J-140
15*2
350*4
320-480
180-250
≤10
3000*4800
PU
9636
5010*7860*3720
Whenever you need help for your solutions, Please remember LZZG is professional manufacture of wet processing equipment.
1000+

technical professionals