Vsi impact crusher for sand making high quality simple operation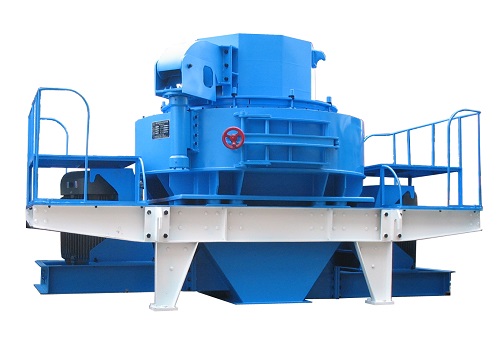 Vsi impact crusher is new type sand making the machine, has better comprehensive performance than the rod mill sand making machine, the straight-through impact sand making machine, and the cone crusher and soft hammer crusher. It has the characteristics of stable and reliable work, convenient maintenance and high sand production rate. The equipment is suitable for stone shaping, production mechanism sand, sand making field, high-grade highway, railway, water conservancy, construction, cement, refractory, metallurgy, glass sand, and other industries.
Working principle
The material enters the sand making machine from the feeding hopper, and the material is divided into two parts by the feeder, and a part is inserted into the high-speed rotating impeller from the middle of the distributor and is rapidly accelerated in the impeller, and the acceleration can reach hundreds of times of gravity acceleration. Then, it is ejected from the three uniform flow channels of the impeller at a speed of 60-70 m/s. First, it is impacted and broken with a part of the material falling from the periphery of the distributor, and then impacted together on the material lining of the vortex cavity. The material lining rebounds, impacts obliquely upward to the top of the vortex chamber, changes its direction of motion, deflects downward, and the material emitted from the impeller runner forms a continuous material curtain.
Such material is subjected to two or even multiple chances of impact, friction and grinding and crushing in the vortex breaking chamber. The broken material is discharged from the lower discharge opening. It forms a closed circuit with the circulating screening system. Generally, the material can be broken into 20 mesh or less after three cycles. During the whole crushing process, the materials are crushed and broken by themselves, and are not in direct contact with the metal components, but are impacted, rubbed and pulverized with the material lining, which reduces pollution and prolongs mechanical wear time. The ingenious airflow inside the vortex chamber self-circulates, eliminating dust pollution.
Product Features
The energy consumption is small, the output is high, and the crushing ratio is large.
The device is small in size, easy to operate, and easy to install and maintain.
It has a shaping function, the product is cubic, and the bulk density is large.
During the production process, the stone material can form a protective bottom layer, and the body is wear-free and durable.
A small amount of wear-resistant parts are made of special hard and wear-resistant materials, which are small in size, light in weight and easy to replace.
Technical parameters
Model
Feed at center&sides
Feed at center
Soft Material
Hard Material
REV (r/min)
Power (kw)
Motor Model
Machine Size (mm)
Capacity(t/h)
Max. Feeding(mm)
VSI7611
120-180
60-90
35
30
1700-1890
4-55×2
Y250M-4/55
4100×2250×2258
VSI8518
200-260
100-130
40
35
1520-1690
4-90×2
Y280M-4/90
4140×2280×2425
VSI9526
300-380
150-190
45
40
1360-1510
4-132×2
Y315M-4/132
4560×2450×2780
VSI1140
450-520
225-260
50
45
1180-1310
4-200×2
Y315L2-4/200
4560×2450×2780