Large capacity sand classifier parameter

January.11,2021
LXS series sand classifier is a sand washing equipment, which was designed to provide bigger capacity and higher cleaning level than traditional sand classifier. The input materials' max size can be 30mm.

LZZG Screw Classifier Working Principle
The solid particles are different in size and density, so the settling speed in the liquid is different. The fine ore particles float in the water and overflow. The coarse ore particles sink to the bottom of the tank and are pushed upward by the screw.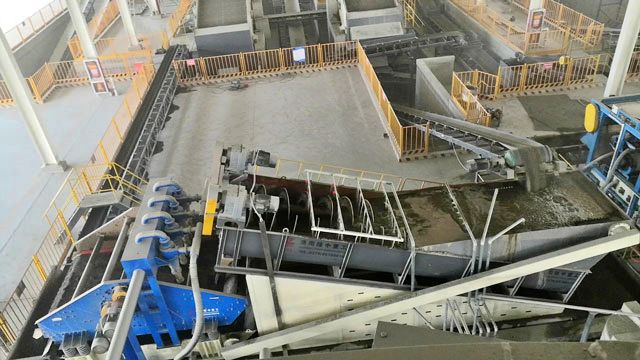 Technical parameters
Model
Feed size
Capacity
Spiral diameter
Number of spirals
Tank length
Power
Dimensions
mm
t/h
mm
mm
kw
mm
LX0920
≤10
30-60
920
1
8000
11
8710X1630X2080
LX1120
≤10
40-80
1120
1
8000
18.5
9230X1840X2130
LX1500
≤10
50-100
1500
1
8000
22
9620X2230X2480
2LX0920
≤10
60-120
920X2
2
8000
11X2
8710X2600X2080
2LX 1120
≤10
80-160
1120X2
2
8000
18.5X2
9230X3050X2130
2LX1500
≤10
120-250
1500X2
2
8000
22X2
9620X3730X2480
If you are a user of spiral sand classifier, or if you have any problems with the use of sand processing equipment, we will provide you with relevant professional solutions for free!