Hydrocylone separator combined with shale shaker
Hydrocylone separator combined with shale shaker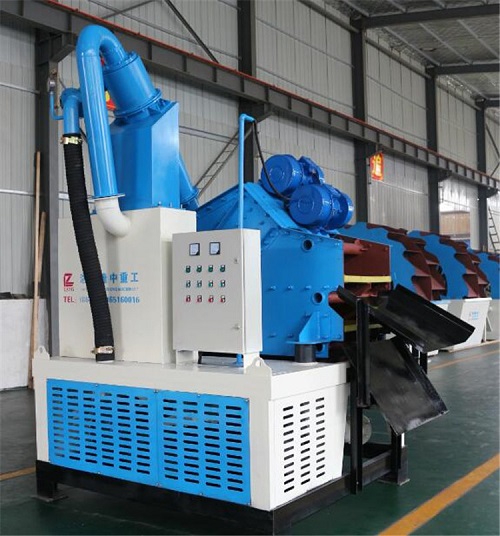 The hydro-cyclone for mud purification equipment is characterized by a combination of 1-3 high wear-resistant polyurethane desanding cyclones and 8-16 high wear-resistant polyurethane cyclones. The working capacity of the mud purification equipment is 220m3/hInlet Size: DN150mm, Separation Point: 15-44um Weight: 1250kg.
The overflow pipe and the feeding pipe have large diameters. The cone angle of the cone is small; the mortar changing mechanism adopts a tiltable metal groove fixed with the central shaft to control the flow direction of the mortar; the circularly arranged cyclone group is used together with the rectangular recovery vibrating screen. Due to the above characteristics, the utility model has the advantages of strengthening the mud slurry, improving the separation efficiency of the drill cuttings, simple structure, low cost, moving and relocating, and convenient installation and use.
PDF Download Gallery Send Email export@lylzzg.com
Get The Price
Working principle
The external pump (hydraulic screw pump) draws the mud in the on-site waste slurry tank to the coarse sieve layer of the vibrating screen. After screening through the coarse sieve layer of the vibrating sieve, the particles larger than mm will be discharged, and the particles less than mm will be discharged. Will enter the slurry storage tank, at this time, the main slurry pump pumps the mud in the slurry storage tank to the cyclone, after the cyclone separation, most of the cleaned and separated standard slurry will be The overflow of the cyclone flows out and enters the middle storage tank. The waste slag separated by the cyclone is discharged through the bottom flow port, enters the vibrating screen fine sieve layer, and dewaters the waste residue through the sieve vibration. And eventually ruled out.
Features
The abrasion and corrosion resisting slurry pump has advantages such as advanced centrifugal designing, optimal structure, stable operation and convenient maintenance.
The hydraulic cyclone with advanced structural technology can efficiently separate sand fromslurry. Moreover, it features inlight weight, corrosion and abrasion resisting material, so it can work stably in the worst condition without maintenance.
Compact design with small footprint, with top feed and weir feed two option.
Mechanical Deck is adjustable during operation, reliable performance.
Polyurethane ( PU ) material, high-chromium cast iron or ceramic to make desander and desilter cones.
Hook-strip shaker screens for fast screens changing with screens.
Specifications -
Model
Capacity (t/h)
Power (kw)
Electronic-controling
Screensize (mm)
Sievepore (mm)
Mud separator
Weight  (kg)
Dimension(mm)
JH-FX40
40
9
Chint electric appliance
900*1800
0.1-3
200
2500
2186*2350*3540
JH-FX60
60
14
900*2400
250
3800
2600*2350*3640
JH-FX80
80
18
1200*2400
300
4300
2600*2780*3740
JH-FX200
200
41.4
1500*3000
500
8500
3400*3080*3900
Whenever you need help for your solutions, Please remember LZZG is professional manufacture of wet processing equipment.
1000+

technical professionals
Whenever you need us, we are waiting for you