Plastic vibrating screen, rubber screening equipment 30~100t/d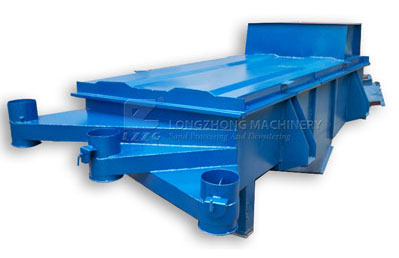 Plastic vibrating screen application
The plastic vibrating screen is a multi-layer linear vibrating screen. It is used for screening and grading powdery and granular materials, and is widely used in plastics, abrasives, chemicals, medicine, building materials, grain, carbon, fertilizer, and other industries.
The linear vibrating screen is a high-efficiency new type of screening equipment, which can screen materials such as plastic rubber sand and gravel into products of different particle sizes.
Working principle
The multi-layer linear vibrating screen is driven by a double-vibration motor. When the two vibrating motors are synchronized and rotated, the exciting force generated by the eccentric block cancels each other in a direction parallel to the motor axis, in a direction perpendicular to the motor shaft. The stack is a combined force, so the movement of the sieve machine is a straight line. The two motor shafts have an inclination angle with respect to the screen surface. Under the combined force of the excitation force and the material self-gravity, the material is thrown up and jumped forward in a linear motion on the screen surface, thereby achieving the purpose of screening and classifying the materials. Can be used in the assembly line for automated operations. It has the characteristics of low energy consumption, high efficiency, simple structure, easy maintenance, and no closed dust in the fully enclosed structure. The highest sieve size is 400 mesh, and 7 different particle sizes can be sieved.
Product Features
Multi-layer linear vibrating screens are used to screen all dry materials with a moisture content of 0.74mm or more, 10mm or less, 7% or less, and no viscous materials.
Multi-layer linear vibrating screens are also capable of screening liquids, especially for treating sewage.
The multi-layer linear vibrating screen is more capable of pulverizing coal particles with larger particles. It is necessary to point out that when carrying out large material operations, it is necessary to thicken the thickness of the sieve body, increase the power of the motor, and punch the sieve. The board acts as a screen.
The linear vibrating screen has the advantages of stable and reliable, low noise, long life and high screening efficiency.
Technical parameters
Model
Power (kw)
Quantity
Processing power (t/h)
Feed size (mm)
sieve board parameters
machine weight (kg)
Dimensions (mm)
Dewatering screen size (mm)
Screen area (m2)
Sieve material
TS0918
1.1
2
10-30
≤10
900*1800
1.6
Imported polyurethane
600
1885*1290*1077
TS0924
1.1
2
10-30
≤10
900*2400
2.2
Imported polyurethane
850
2483*1290*1215
TS1224
2.2
2
30-60
≤10
1200*2400
2.88
Imported polyurethane
1100
2485*1590*1424
TS1230
2.2
2
30-60
≤10
1200*3000
3.6
Imported polyurethane
1225
3084*1590*1439
TS1236
3
2
30-60
≤10
1200*3600
4.32
Imported polyurethane
1468
3677*1590*1498
TS1530
3
2
60-100
≤10
1500*3000
4.5
Imported polyurethane
1357
3083*1890*1433
TS1536
3
2
60-100
≤10
1500*3600
5.4
Imported polyurethane
1750
3683*1890*1445
TS1836
5.5
2
100-130
≤10
1800*3600
6.48
Imported polyurethane
3030
3717*2423*1927
TS1842
5.5
2
100-130
≤10
1800*4200
7.56
Imported polyurethane
3434
4368*2421*2104