XS Sand Washing and Dewatering Machine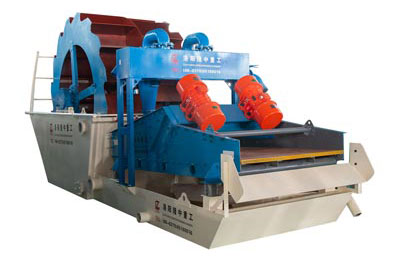 Sand washer with dewatering machine, Dryer your washed sand
No matter which kind of sand washer used in sand processing plant, the final sand always contains a large amount of water. But dry sand is needed by most customers. In order to solve this problem, we developed XS series sand washing & dewatering machine, combined washing with dewatering functions. It perfectly solved the above problem.
Working principle
The work style of this series sand washer is rotary and movable.
The bucket is driven by motor through reducer and rotates in circle. There are many sand storage web grooves in grille form. When the bucket moves, sand can be put out by storage web groove after being cleaned, waste water outflows through web groove's holes. Meanwhile the washed sand will be fed into PU screen directly for dewatering. In the process of sand washer is running, sand is discharged through the feeding groove. Sand washer can circumrotate and discharge sand periodically by motor's continuously running, which can realize the batch production. It works the same as XSD sand washing machine. After vibrating and dehydrating on the PU screen, dry sand is the final product.
Product Features
1. Multiple function: washing, screening and dewatering.
2. The water content of final sand is within 12%-15%.
3. Good efficiency, high productivity.
4. Economical and utility in sand processing plant.
Technical parameters
| | | | | | |
| --- | --- | --- | --- | --- | --- |
| Model | Power (kw) | Feed size (mm) | Production (t/h) | Weight (t) | Overall Dimension (L*W*H)(mm) |
| XS1026 | 9.9 | ≤10 | 30-50 | 5.18 | 6022*2150*2730 |
| XS1630 | 19.4 | ≤10 | 50-120 | 7.3 | 7200*2900*3070 |
| XS2036 | 24.5 | ≤10 | 120-180 | 9.45 | 7200*3000*3600 |