LZ150 Sand Washing Workstation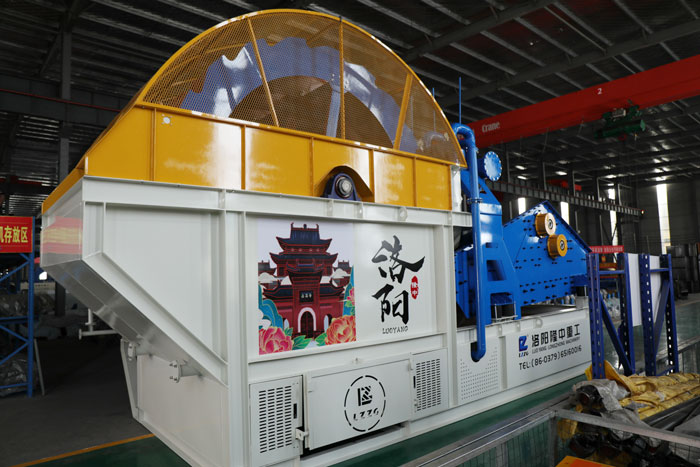 The sand washing workstation is an upgraded version of the traditional wheel sand washing & recycling machine. On the original basis, it not only improves the quality of accessories, but also greatly improves the structure.
Proposed Price USD 6000$~10000$
Working principle
1. When the mixture of sand, water and mud enters the water tank of the wheel sand washing machine, there is a transverse baffle inside the water tank, which can effectively prevent the mixed material from entering the wheel bucket directly, so that it can be fully mixed and stirred in the water tank. At the same time, the residence time of the sand in the water tank is increased, and then separated by the impeller separator. When the wheel bucket leaves the water surface, high-pressure water curtain is sprayed to squeeze out more mud water in the wheel bucket. When the wheel bucket takes the sand to the discharge port, water is sprayed again to further achieve the cleaning effect.
2. After a cycle of washing, the water tank will overflow the waste water (containing fine sand, mud and other impurities) with the injection of clean water. The principle of inclined plate settlement is adopted to reduce fine sand loss in overflow weir. The waste water enters the tank under the screen and is transported to the hydrodynamic separator by horizontal centrifugal slurry pump. Then the fine sand after centrifugal classification and concentration is discharged into the upper layer of the dewatering screen through the sand sink nozzle for dehydration operation.
3. The waste water, mud, dust and impurities in the wheel washing tank and the screen under the water tank are treated by the hydrodynamic separator, and the waste water containing a very small amount of fine sand is discharged through the overflow port into the high return tank and then out for treatment. It effectively protects the back-end sewage treatment equipment and reduces the working pressure.
Product Features
1. Efficient operation, green production
It has high efficiency, low energy consumption, and can effectively reduce dust, noise and other pollution. Its overall structure is reasonable, covers an area of small, simple installation, is in line with the green mine energy conservation and environmental protection equipment.
2. Strong function, excellent quality
It combines the characteristics and advantages of wheel sand washing and fine sand recycling, and has the function of washing sand, recycling fine sand and dewatering. It is cleaner than using the traditional sand washing machine. It is well graded and can further improve the quality of the finished sand.
3. Small investment, good quality
This machine is made of selected materials and has good welding process. One equipment can complete sand washing, recycling, dehydration and other processes. It has reliable quality, long service life, low investment cost and good economic benefit.
4. Customized
This machine has various models, with a single production capacity of more than 250 tons, and can be customized according to user requirements.
Technical parameters