Track type mobile sand washing plant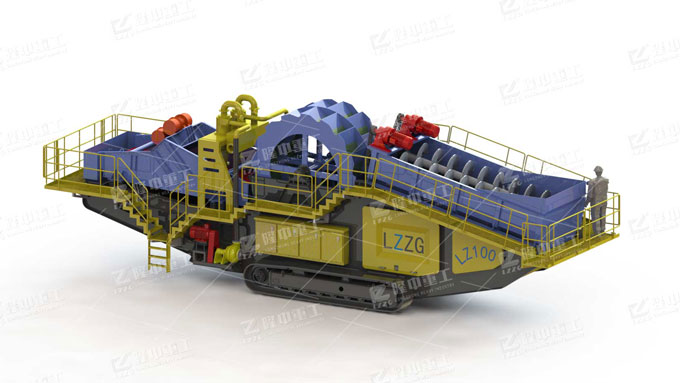 This machine is a tracked type sand washing and sand screening machine. It is portable and designed for washing sand and gravel, mines, building materials, and hydropower, and concrete production.
Through the crawler, the mobile operation of the aggregate washing is realized, and the operation mode is more flexible. It is powered by diesel and electricity, either external power supply or diesel only. The sand washing effect is good by twice washing, it can deal with those sand with higher mud content. Track type mobile sand washing plant can recycle waste water to high resource utilization rate. It can be equipped with satellite positioning and lock function, supporting various forms of commercial sales and cooperation. This mobile plant owns advanced technology, intelligent monitoring and control system, has wireless remote monitoring, data transmission, data analysis and remote control functions.
Proposed Price USD 40,000$~90,000$
Working principle
It is a portable sand washing screening equipment.
The generator set has a built-in engine, which burns diesel fuel to work and provide power to drive the generator to meet the electricity demand of moving or working, that is, miving and working are not at the same time.
When the machine moving: all the electric energy produced by the generator set is used in the hydraulic station. Then the hydraulic station form hydraulic energy to drive the motor on the crawler chassis, and drive the crawler to move after being decelerated by the planetary reducer.
When the machine is moved to the designated location, there are two options for machine working: 1. The generator set continues to work, and all the electrical energy produced is used to drive all the motors on machine to perform operations. 2.To stop the generator set and drive all the motors on the equipment by external power supply. If the equipment is driven by a hydraulic motor, the working process will be a little complex. First, electric energy drives the hydraulic station to form hydraulic energy, and then the hydraulic energy drives the motor to rotate to drive the equipment to work.
Product Features
Dual power by diesel and electricity.When electricity is available, it can work by electricity. When there is no electricity, it can work by diesel generating set.
The operation is more flexible, which can realize rapid transfer. Compared with the traditional wheeled mobile sand washing station, it can walk, reverse, turn, climb without traction.
It can be freely combined with various belt conveyors and production lines, and the process layout is more flexible.
Simple operation. Crawler walking can be realized by a handheld remote control, the electric control system has an interlocking function, button operation and PLC touch screen control are provided.
Advanced technology and stable performance. The electronic control system has the function of fault diagnosis, the electro-hydraulic proportional control technology is used. It has soft frequency conversion starts, adjustable deviation. By reasonable energy match, it is more energy-saving.
Electro-hydraulic dual-power interface is provided, which can help to finish peripheral work such as feeding material transportation, discharge transportation, lighting, and oil cylinders.
It has remote positioning and lock function, which has accurate positioning, reliable lock and high safety factor.
It has video monitoring, signal transmission, wireless remote control and other functions, and can also perform data analysis and fault analysis through data recording.
All mahcine are driven by a motor as standard, and can also be driven by a hydraulic motor.
Mobile sand washing plant can be customized by customers' requirements.
Technical parameters
STRUCTURE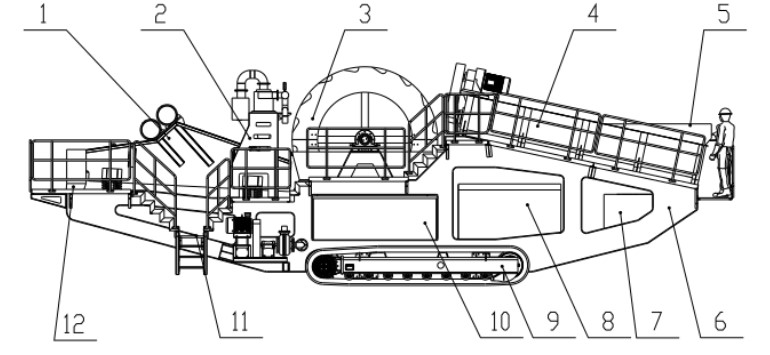 1.Dewatering screen  2. Water tank and hydrocyclones  3. Wheel sand washer  4. Spiral sand washer  5. Feeding port 6. Heavy duty rack 7. Hydraulic station 8. Generator set 9. Crawler chassis( with reducer and mortor) 10. Control cabinet 11. Ladder  12. Discharge port
Model
Screw specifications
Wheel specifications
Sieve plate specifications
Power
Weight
Dimensions
mm
mm
mm
kw
kg
mm
LD100
2LX920
XSD3016
TS1842
110
25000
14430*3500*4500