Mobile portable sand washing & screening plant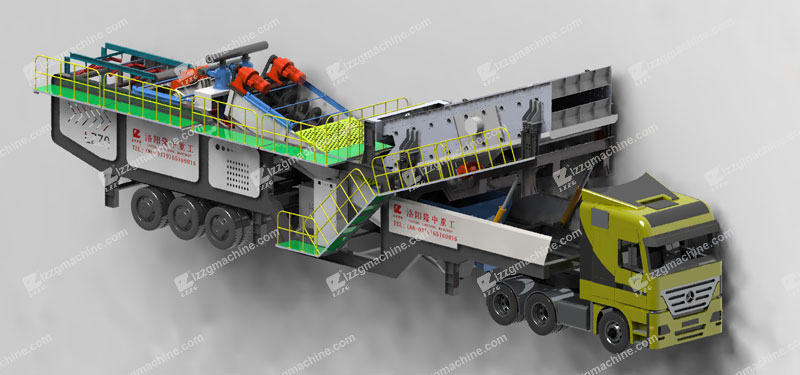 The YD series mobile portable sand washing plant has multifunction of washing and dewatering, screening.  High cleanliness and strong machine maneuverability. It can quickly reach the construction site and can enter the working state at any time. The integrated unit installation form reduces the workload of installation and erection of split components, which occupies a small area and saves costs. It is suitable for a variety of materials, integrating screening, sand-washing, dewatering, and fine sand recovery functions in one, output Up to 120 tons per hour.
Proposed Price USD 60,000$-99,000
Working principle
Suit materials  River pebbles, granite, limestone, basalt, coal gangue, weathered sand, river sand, yellow sand, etc.
Application range This equipment has been widely used in sand mining, mine, construction site, highway, road and bridge construction, concrete mixing station, water conservancy and hydropower, chemical industry and other industries.
Structure: mobile trailer chassis, screening device, water washing device, dewatering recovery device, pump and motor components, conveyor belt, electronic control and hydraulic system, etc.
Work flow: Material artificial sand or natural sand is fed to the screening device via a belt conveyor. The material on the screen is conveyed to the storage yard by the belt conveyor as a finished product. The under-screen material enters the sand washing device through the flow trough and is in the sand washing device It is fully immersed, stirred, and washed in the process. The cleaned materials are then dewatered and recovered when they are transported to the front-end dehydration equipment to produce qualified finished sand.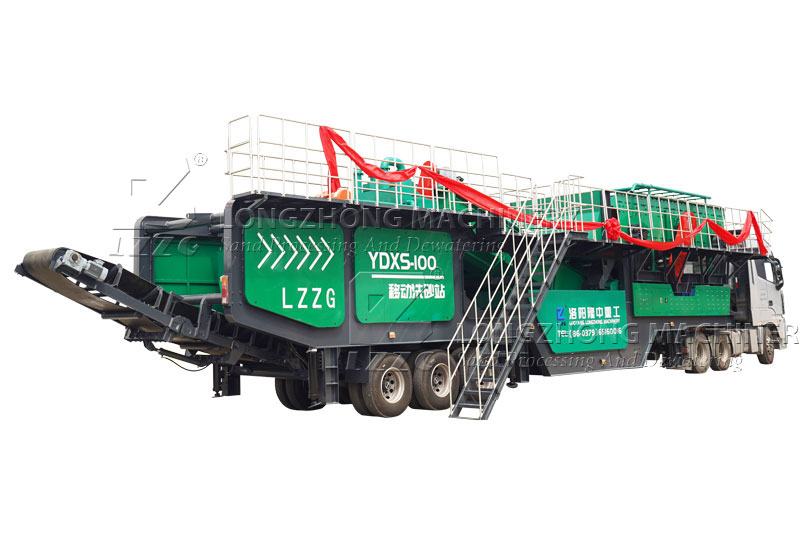 Product Features
1. Highly integrated and automated design eliminates tedious site layout, basic installation and other tasks.
2, strong mobility, the whole machine is portable, convenient, efficient, environmentally friendly, intelligent screening, washing, recycling, dewatering workstation.
3. Integrating the entire unit eliminates the complex site infrastructure installation operations of split components, reduces the consumption of materials and man-hours, and the unit's reasonably compact space layout improves the flexibility of site location
4. Reduce material transportation cost, material can be processed on site, greatly reducing material transportation cost.
5. Customized service, according to different material types and product requirements, to provide more flexible process and equipment configuration to meet user process requirements.
6, strong adaptability, can run independently, can also be grouped with the crushing equipment and back-end tail water treatment equipment, joint operations.
Technical parameters
Model
Feed size
Capacity
Screen specifications
Spiral diameter
Sieve specifications
Cyclone
Power
Dimensions
mm
t/h
mm
mm
mm
mm
kw
mm
YD-50
≤10
30-50
1800X6000
920
1500X3000
250X2
63
17500X3000X4800
YD-80
≤10
50-80
2100X6000
1120
1500X3000
300X2
81.5
17500X3000X4800
YD-100
≤10
80-120
2400X6000
920X2
1800X4200
350X2
126
17500X3000X4800