DS Series Multi Function Sand Washer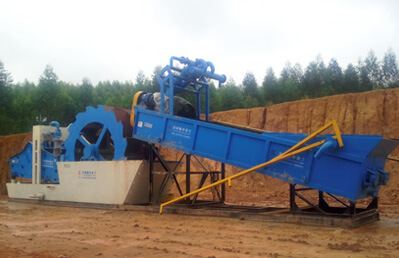 Efficient Sand Washing Plant, Multiple functions, Low cost
With the shortage and non-renewable of mining resources, LZZG launched DS series new sand washing equipment. This new sand washing equipment is made up of three parts: spiral sand washing machine, wheel washing machine, and recycling machine, which inherits the advantages of the three above.
It is widely used for crushed sand, river sand, lake sand or sea sand washing, screening, recycling, and dewatering.
PDF Download Gallery Send Email export@lylzzg.com
Inquiry Online
Leave A Message
Working principle
Sand becomes the qualified products by the screening machinery, then flow into spiral stirrer through a chute, the spiral sitter will clean, soak, break up sand ( especially direct at high mud content material), tailing waste water discharges into separating device to concentrate and grading. Tailing and coarse ore discharges into waterwheel to be cleaned and dehydrated at the same time, waste water discharges into secondary separating device to concentrate and grading, tailing and coarse ore discharges into dehydration and desliming device at the same time again. Then the finished product which is fully dehydrated by high frequency vibrating motor will be transported into material pile by belt conveyor and for sale.
Features
1. Multiple function: washing, screening, dewatering and recycling;
2. Recycling 0.16-3mm fine sand;
3. 95% sand can be recycled;
4. Moisture content within 15%,mud content of less than 2%
5. Solving sedimentation tank cleaning problem, higher economical profit.
Specifications - Technical Data
Model
Power (kw)
Sand capacity (t)
Max feeding size (mm)
Secondary separating (optional)
Cyclone material
Sand production rate
Weight  (kg)
Overall  dimensions LxWxH (mm)
DS-L2612
42.9
30-50
≤10
No
Polyurethane, KM composite ceramic, corundum
90%
11000
13500*2100*2850
DS-2L2612
64.9
40-60
≤10
Yes
98%
12500
13500*2100*2850
DS-L3015
66
80-100
≤10
No
90%
22300
16600*3100*3300
DS-2L3015
96
90-110
≤10
Yes
98%
24000
 16600*3100*3300
INFO REQUEST
If you want to know more about our sand processing equipment, please contact us with the following form.
We will provide you with satisfactory service.
Whenever you need help for your solutions, Please remember LZZG is professional manufacture of wet processing equipment.
1000+

technical professionals
Whenever you need us, we are waiting for you