Sand washing plant manufacturer from China
Sand washing plant is a set of system that process sand and gravels from raw state into finished products with various specifications, which typically washing, cleaning, classifying, desliming, sculting, dewatering and recycling sand, transporting to stock piles, as well as recycling the most part of water used from muddy water purification. The specific configuration of sand wash plant can be changed according to specific requirements of customers.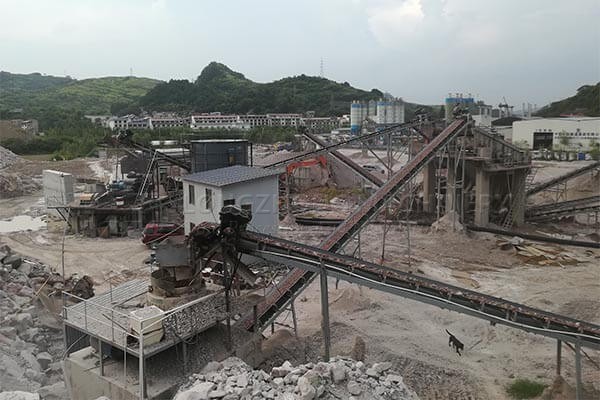 LZZG as one of large sand washing plant manufacturers is professionally creat process solutions and manufacture sand washing equipment to meet different requirements of customer's application. Through our continuous experiment, innovation, and decades of experience, you can get a plant a plant specifically designed for your working site to meet your requirements. Whatever natural sand, crushed sand, coarse particles, fine particles, large mud content, many impurities, ores, tailings, coals, special used, we can offer a plant to meet your requirement.
Usually, the wash plant is wiely used in mineral, coal, ore, tailing washing and recycling, river and lakes purifying, especially in sand washing. But it is also professional in power station. The use of hydrocyclones in sand washing equipment is the most efficiency method for an optimum sand washing process because it lets to remove the fraction below 63 microns without losing fines.

Domestic refuse incineration and recycling
1. Main equipment recommendation
(1) Solid particles washing, classifying, recycling and dewatering
A. Fine sand recycling machine
B. Sand washing and recycling machine
(2) Muddy water purification
A. Thickener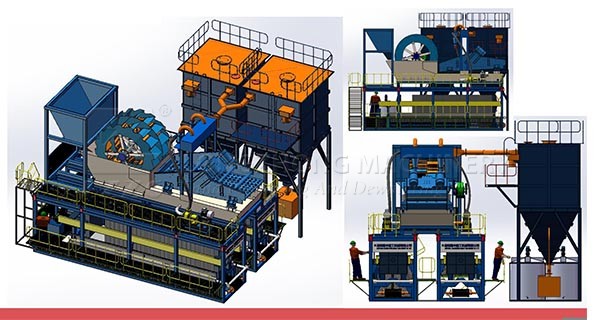 2. Implementation plan
(1) The fine sand recovery machine is used to realize the recovery of particulate matter after the jig treatment.
(2) The sand washing and recycling machine is used to realize the washing and recovery of the solid particles under vibating screen after screened.
(3) The use of thickener is to realize the muddy water separation and purification after the operation of above-mentioned fine sand recovery machine and sand washing and recycling machine.
(4) The use of chamber filter press is to press the sludge that from thickener into mud cake to realize dry pile.
3. Technical services
(1) The negotiation stage of plan. The technicians went to scene and then support the text plan and model layout and floor plan.
(2) Specific construction stage. Provide detailed construction drawings, including equipment foundation map,layout chart, civil foundation and pre-embedding layout diagram, general structure layout diagram, steel structure foundation diagram, ladder and two-layer platform diagram, and structure diagram of thickener. Technicians take on-site service, continuous follow-up during construction.
(3) Operating and debugging phase. After-sale man follow up the construction progress and equipment debugging.
4. Sand washing plant process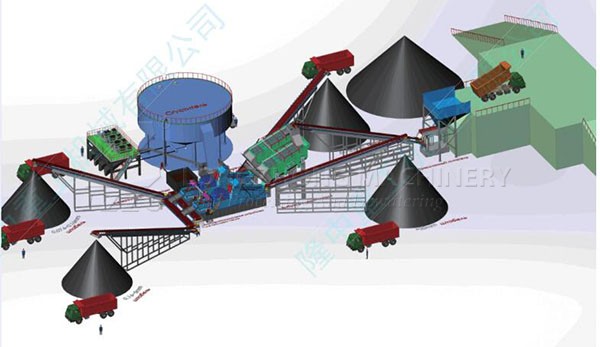 (1) After jigging processed, the slurry flows into the lower water tank of fine sand recovery machine, and then is driven into desander cyclone through internal slurry pump. After recovering, 0.074-3mm fines are discharged to dewatering sieve and mixed into coarse particles uniformly to dehydrate. The discharge port is connected to belt conveyor to transport finished sand to designated position. The tailing water flows into return box, then flow in the sewage transfer tank, finally is pumped into the thickener by vertical pump.
(2) The sieved material after processed by vibration screen is self-flowed into impeller water tank of sand washer. When impeller rotates, materials in washing tank is stirred to cleaning to remove the impurities. Then the material finished particles are discharged from discharge port, transported to pile through belt conveyor. The tail water flows discharged from desander cyclone into sewage transfer tank, then flows into thickener.
(3) The mud and water is separated through the sedimentation of flocculant. The thickener treats about 80% of tail water into clean water, then directly enters clear water pool through overflow port. At the same time, the concentrated mud is pumped into chamber filter press through the bottom of thickener. Then filter press presses the concentrated mud into mud cake to realize dry pile, landfill or develop other uses. After the filter press, clean water enters the clear water tank to realize the recycling of clean water and zero discharge of entire process.
5. Finished products
(1) Realize the washing, recovery and dewater of solid particles: the recovery rate of solid particles above -200 mesh is 85-90%, and the water content after dewatering between 12-15%. The amount of mud in finished sand is less than or equal to 3%, which is in line with the standard for commercial mixed sand.
(2) Realize the purification and reuse of muddy water: the purified muddy water suspension is lower than 300mg/L, which is higher than the third-level emission related to tail water discharge in the mining industry in GB8978 Integrated Wastewater Discharge Standard. The water reuse rate is greater than 90%, in line with national standards for water reuse in industrial mining, mineral processing, etc.
(3) Realize dry pile and dry discharge of solid waste: the moisture content of pressure-filtered mud cake is less than 20%, which meets the national standards for dry storage or mixed landfill moisture content of solid waste.
<<Previous: Sand washing screw specification and working principle
>>Next: Artificial sand washing plant of high capacity for sale in Vietnam