Sand washing screw specification and working principle
Sand washing screw can clean and separate the mud and impurities mixed in sand and gravels. Its novel sealing structure, adjustable overflow weir plate and reliable transmission ensure the cleaning and dewatering effect. The sand washer is widely used in roads, hydropower, construction and other industries for washing, grading, and impurity removal, as well as the washing of fine-grained and coarse-grained materials, especially suitable for sandstone used for construction and road construction.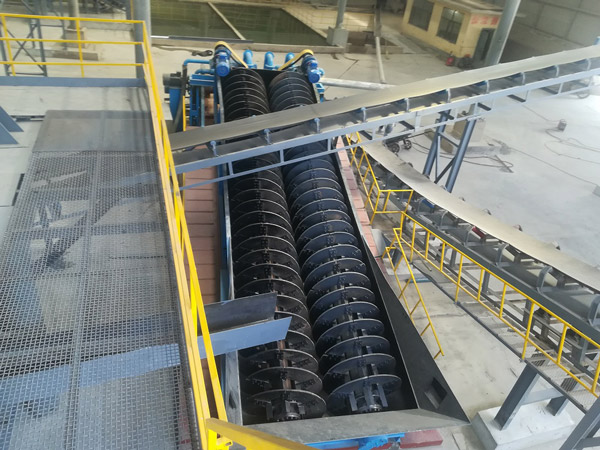 Simple structure with long service life
The sand washer screw is composed of a tank body, a speed reducer, a motor, a central shaft, a spiral blade, and a bracket. The bracket is welded on central shaft, and the spiral blade is mounted and then pressed with bolts, so that the blade does not sag and deform.
Sand washer screw can process 0-30mm materials and can wash out the mud, stone powder and other impurities mixed in material into clean sand. The utility model has the advantages of simple structure, easy maintenance, and high washing efficiency.
How sand washing screw works
Sand washer screw forms a sedimentation tank in the lower part of the inclined tank, and the spiral head entered into the sedimentation tank. It uses the buoyancy of water to separate the dust and impurities from sand, then through the agitation of spiral blades, to achieve the purpose of filtering water to removing impurities. The machine rotor adopts a central structure, and the spiral blade is mounted on the central shaft and is connected to the central shaft by reducer to work. By the principle that different specific gravity of solid particles caused the different speed of sedimentation in the liquid, the functions of washing, dehydrating and classifying are completed.

Technical parameters and specification
Installation and commissioning
1. After sand washer screw is shipped, the user should immediately check whether the parts are complete and damaged. Make sure the machine is intact before installing it.
2. The user should install the sand washing machine firmly on solid concrete foundation according to the specific conditions of site and the foundation drawing of sand washing machine.
3. The machine must be installed at an oblique angle as required by the installation drawings.
4. The motor is mounted on the guide rail to adjust the tightness of belt. The pulley and motor pulley should be parallel when installed.
5. After adjusting according to the above requirements, turn the rotor disc a few turns to check for stuck or collision.
As a manufacturer, we mainly produce sand washing screw, bucket sand washer, sand recovery machines, sludge treatment, and dewatering screen. Our products were exported to Europe, Australia, North America, South America, Southeast Asia, the Middle East, Central Asia, Africa, and other countries.
<<Previous: LZ Sand washing and recycling machine customer site
>>Next: Sand washing plant manufacturer from China