Artificial sand washing plant of high capacity for sale in Vietnam
Vietnam needs about 100 million cubic meters of sand each year for construction projects in the country. But the domestic supply of natural sand was nearing an end and could be depleted in five years due to excessive exploitation, the Vietnam News reported recently.

Vietnam will need more artificial sand instead nature sand. The artificial sand can be manufactured by crushing certain types of rocks, which can be found in southern Vietnam. The artificial sand should be washed by sand washing plant before sell. The sand washing plant can remove impurities such as dust from sand products.
We researched and produced a series of the sand washing plant, such as DS Series Multi-Function Sand Washer, Spiral sand washing and recycling machine.
The plant is consists of the conveyor, sand washing machine, dewatering screen with a cyclone.

the feature of the

lzzg

sand washing plant

1. Multiple functions: washing, screening, dewatering, and recycling;
2. Recovering 0.16-3mm fine sand;
3. 95% of sand can be recycled;
4. Moisture content within 15%, mud content of less than 2%
5. Solving sedimentation tank cleaning problem, higher economic profit.
6. the capacity of sand washing can reach 110t/h
7. energy saving, the lowest power cost is 42.9kw.
Sand washing plant workflow
Sand becomes the qualified products by the screening machine, then flow into spiral stirrer through a chute, the spiral stirrer will clean, soak, break up sand ( especially direct at high mud content material), tailing wastewater discharges into separating device to concentrate and grading. Tailing and coarse ore discharges into waterwheel to be cleaned and dehydrated at the same time, wastewater discharges into secondary separating device to concentrate and grading, tailing and coarse ore discharges into dehydration and declining device at the same time again.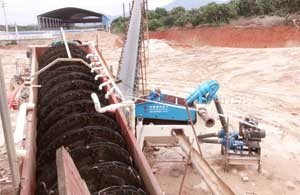 the screw sand washing machine
Service after sale
We will send a professional and high levels installation engineer team at the same time the product properly to the destination, in order to supply you a full range of products installation services.
<<Previous: Sand washing plant manufacturer from China
>>Next: Vibrating screen, rotary screen for sale in Pakistan