River dredging thickener tank with small footprint 200m³/h

March.06,2020
LZZG thickener tank has high processing capacity, the maximum processing capacity of a single unit can handle 200m³ / h, high solid concentration at the bottom of the effluent, low operating cost, small footprint, low investment, energy-saving, low operating cost, simple operation, and convenient management. The quality of overflow water can easily meet national discharge standards or be recycled. Therefore, it is very popular among customers of large mines and sand washing plants.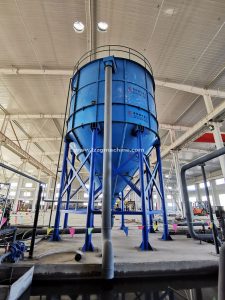 [Application fields]: sand washing field, dry tailings of mine tailings, river dredging, pile construction sludge, machine sand crushing, and washing, etc.
[Applicable materials]: stone powder, river mud, washed mud, piling mud, shield mud, etc.
A single unit can treat up to 1,000 cubic meters of sewage per hour. The concentration of solids discharged from the bottom can reach about 50%. The concentration of solids discharged from the overflow water does not exceed 3%. Used with sludge dewatering machine.
The sedimentation effect is good. The deep-feeding and advection sedimentation technology are used to reduce the sedimentation height. The principle of liquid hydrostatic sedimentation is used to reduce the kinetic energy of solid particles and the sedimentation effect is good. 3. Low operating cost, small floor area, low investment, power saving, low operating cost, simple operation and convenient management.

High-efficiency deep cone concentration tank is a new product in the current solid-liquid separation process. Due to small investment, small footprint, high efficiency, the concentration of underflow and the quality of overflow water have been greatly improved. Not only that, it can also realize intelligent operation. In general, the processing capacity is 2-3 times higher than that of traditional thickeners. The bottom concentration can reach 50% and the quality of the overflow water can easily reach the national discharge standard or the reclaimed water reuse standard.