Dewatering Screen For Coal, Mud, Sand Drying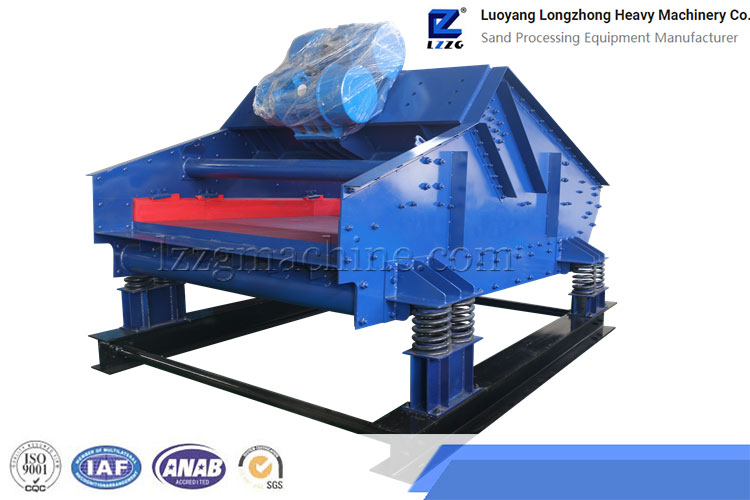 High dewatering ratio vibrating screen
TS series dewatering screen output low moisture content materials like sand, coal, mud and tailings, hot sale in the market.  It use wear-resistant polyurethane sieve panel , not easily blocked in screening. When processing mineral pulp such as coal, mud or dirt mixed water, steel mesh is easily blocked and adjusting its mesh size will highly reduce its capacity.
It is important for owner to get dry sand directly after washing process, here comes our new type high G-force vibrating screen. Also we use high-quality PU screen as its sieve, one side you can get fine sand and also dry sand at the same time.
Application: Mainly used in mining, construction as sand dewatering equipment. It also can be applied to dewatering of coal, sintered ore, ore pulp.  It has simple structure and easy to maintenance, hot sale in China, Vietnam, Indonesia.
Capacity 10~100ton/hour
Working principle
Dewatering screen adopts dual-motor self-synchronization technology. The motors coordinate with universal eccentric and adjustable amplitude vibrator. When the two motors start to work, the vibrators move reversely at the same time. The centrifugal forces is generated by the eccentric blocks will superpose themselves and form a single direction vibration. The high frequency vibration drives the screen move back and forth in line repeatedly. So the sand can be dehydrated and filtered.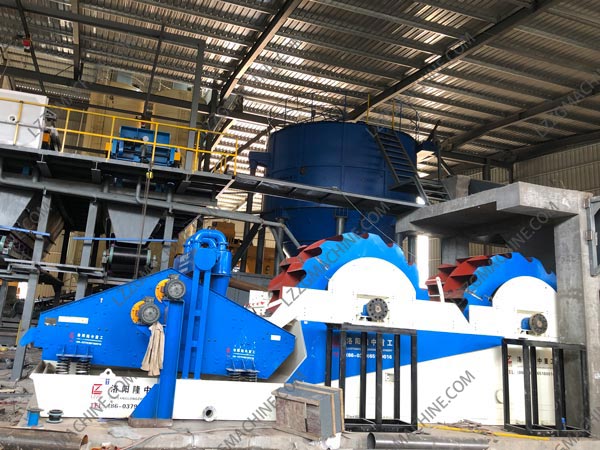 Water Remove Capacity
The incoming material enters the sieve inlet, first remove 1/3 of the water at the pre-dewatering sieve plate, and after entering the junction of the flat sieve plate and the inclined sieve plate, the material gradually accumulates. The water that fails to pass through the sieve plate is intense It is gradually removed under movement, and the material particles form a tight filter layer in the state of high frequency and low amplitude, and gradually vibrate to the discharge port, with a moisture content of about 15%.
Product Features
1. Advanced structure, light weight, high dehydrating ratio with new type vibrating motors.
2. Simple structure, easy maintenance.
3. Cross beam and screen body connect with high strength bolts, no welding and easy to remove and maintenance.
4. Polyurethane screen (PU) high screening ratio, big capacity,long service life and no blocking.
5. Widely used, less replacement parts.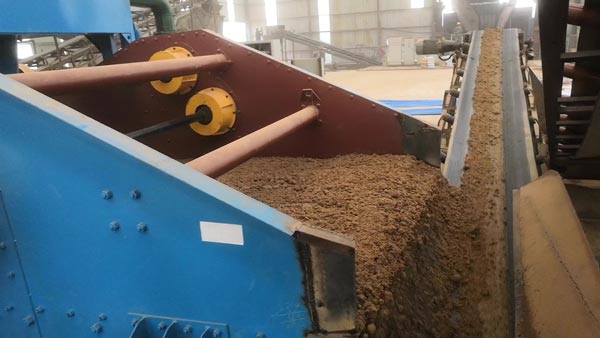 Technical parameters
Model
Feed size
Capacity
Screen Panel
Screen Area
Power
Overall Size
mm
t/h
mm
m²
kw
mm
TS0918
≤10
10-20
900X1800
1.62
0.75X2
1890X1290X1080
TS1224
≤10
20-40
1200X2400
2.88
2.2X2
2480X1590X1430
TS1230
≤10
20-40
1200X3000
3.6
2.2X2
3080X1590X1500
TS1530
≤10
30-60
1500X3000
4.5
3.0X2
3080X1890X1440
TS1536
≤10
30-60
1500X3600
5.4
3.0X2
3680X1890X1450
TS1842
≤10
60-80
1800X4200
7.56
5.5X2
4370X2420X2100
Products can be designed according to user's requirment.
Dewatering Screen Installation
⒈Check whether the motor label is in accordance with the requirements. ⒉Measure the insulation resistance with a 500-volt megohm meter. The value should be dried for the stator winding. The drying temperature should not exceed 120℃. ⒊Check the fasteners of the motor to prevent loosening. ⒋Check the motor surface for damage and deformation. ⒌Check whether the rotation is flexible, if there is any abnormality, it should be eliminated. ⒍Check the power supply, whether it is lack of phase, and run it without load for 5 minutes.
Installation and adjustment
⒈The motor should be fastened on the installation surface, and the installation surface must be smooth and flat. ⒉The motor can be installed horizontally. ⒊The motor lead adopts four-core rubber cable YZ-500V. The lead-out cable is not allowed to fold sharply when connected to the power supply, and it is reliably fixed with the vibrating body. ⒋The motor should have reliable grounding, there is a grounding device in the motor, the lead end has a mark, and it can also be grounded with a firm foot bolt. ⒌Adjustment of excitation force.
Equipment Maintenance
⒈Before starting ⑴Check whether the coarse and fine nets are damaged ⑵Check whether the transportation support is dismantled. ⒉ At startup (1) Pay attention to whether there is abnormal noise ⑵ Is the current stable? (3) Is there any abnormality in vibration ⒊After use Regularly check the coarse mesh, fine mesh and springs for fatigue and damage. Check whether all parts of the fuselage are damaged due to vibration. The parts that need to be lubricated must be lubricated.