Sand recycling machine developed from the dewatering screen

May.24,2018

From the perspective of large and medium size gravel factory at home and abroad, sand washing site and artificial sand making production line, More than 90% is used the wet production lines, generally using silos → feeders → crushers (primary or secondary, tertiary crushing equipment) → washing equipment (screw sand washers or impeller sand washers) → screening Equipment → finished product. Wet production line which means is to use water to wash aggregates, it also cannot avoid lossing part of finished sand from the sand washer, In particular, the loss of fine sand under 0.16-0.2mm is the most serious, its loss rate is above 20%, the consequences are as follows:

1.Loss of fine sand below 0.2 mm affects the gradation of sand, resulting in unreasonable gradation and fineness modulus, which greatly reduces the product quality of sand.
2.Too much fine sand and sludge enter the sedimentation tank, resulting in sedimentation tank, which not only pollutes the environment, but also pays high fees for frequent cleaning of sedimentation tanks.
3.Lots of loss of fine sand, greatly reduced the benefits of customers.
In order to solve the above problems, our company has succeed in developing LZ series fine sand recycling machine. This machine is an advanced material extraction device designed by Longzhong to absorb foreign advanced technology and combine the actual conditions of sand powder, and it is widely used in the gravel aggregate processing system of hydropower stations, glass raw material processing systems, artificial sand making production lines, the recovery of coarse coal slime from coal preparation plants, and environmental protection engineering (slurry purification), which can effectively solve the problem of fine sand recovery.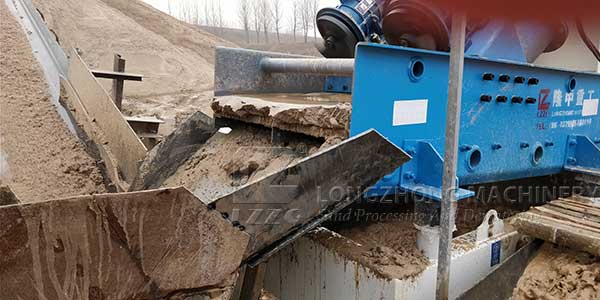 Working principles
LZ series fine sand recovery machine has a reasonable structure, easy usage, and consists of following structural parts: motor, vacuum high pressure pump, sediment separator, TS dewatering screen, cleaning tank, return tank.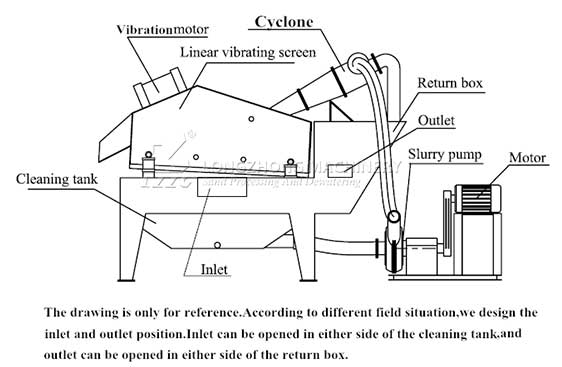 Working process: The pump slurry sand-water mixture is transported to the mud sand high pressure separator, and the fine sand of centrifugally sorted and concentrated provided to the dehydration screen through the sand-sinking nozzle. After dewatering of the dehydration screen ,the fine sand and the water are effectively separated, and a small amount of fine sand, mud etc, are returned to the material box again, when the cleaning tank liquid level is too high, it is discharged through the discharge port. The recycling material concentration of dewatering screen is 70%-80%. Adjusting the fineness modulus can be achieved by changing the pump speed, changing the concentration of slurry, regulating the amount of overflow water, and replacing the mortar nozzle, which realized the function of washing, dewatering and screening.