LZZG mud processing equipment-slurry treatment system

May.17,2018
The application field of slurry treatment system is the same as the mud piling mud processing equipment, they are all equally applicable to hydroelectricity, urban construction, bridge pile foundation and so on positive and negative circulation into the hole, and slurry cleaning and recycling of mud balance shield construction.
The use of vehicle-mounted mobile slurry treatment system not only reduces construction costs and increase hole-making efficiency, but also reduce mud discharge and stricking accidents, which is one of the necessary equipment for construction of basic civilization.
This equipment has been widely used in the construction field such as bored pile foundation engineering, underground continuous wall, tunnel mud shield, underground non-excavation, which it can completely take place of imported equipment, and can effectively solve the problems of waste pulp treatment, mud recovery and recycling in construction projects.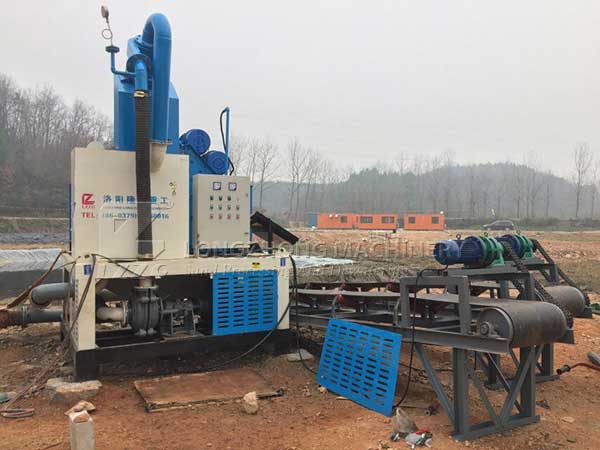 Slurry treatment system advantages
1.Mud cleaning effect is good, waste pulp can be recycled. After the separation of the slurry treatment system, the sludge content of the waste water is less than 3%, which can ensure the use of the mud in the clearance, pouring and retaining wall of the above construction conditions. And the water contend of sand is less than 15%, which can sell directly to realize the profits.
2.The cyclone used in the slurry treatment machine is customized by manufacturers, and can be changed in 20 degrees, 15 degrees and 8 degrees. It can be adjusted for different materials and concentrations so as to achieve the best separation effect.
3.The higher efficient of the slurry treatment system, the larger the processed per unit of time in slurry treatment system produced by LZZG. Which it can effectively save the disposal cost of waste mud, greatly reduce the waste disposal capacity and save the project cost.
4.Excellent technology. LZZG slurry treatment system adopts high-quality vibration motor configuration, without refueling, easy maintenance, and provides two vertical and horizontal placement methods. Good sealing of equipment, prevent leakage and mud splashing, clean and tidy environment; the whole machine is anti-corrosion, brushed fiberglass in the pipe, and the service life is long;What's more, others such as screen mesh, electrical control box and other relevant spare parts, they all use high-quality fittings to make sure high-efficient operation of whole machine.