Sand mining processing plant 200 tons per hour
The LZZG sand mining processing plant is equipped with sand washing and sewage treatment equipment. It can save 80% of sand washing water for customers, and the processing capacity of the sand making machine can reach 50 to 300t/h. This sand washing production line has high output, low maintenance cost, and low energy consumption Etc.
Simple and efficient crushed stone sand production line
Rock sand processing equipment
Granite, limestone, quartz stone sand making equipment includes jaw crusher, impact crusher (sand making machine), vibrating screen (circular vibrating screen), sand washing machine, sewage thickener, chamber filter press or belt press Filter, belt conveyor.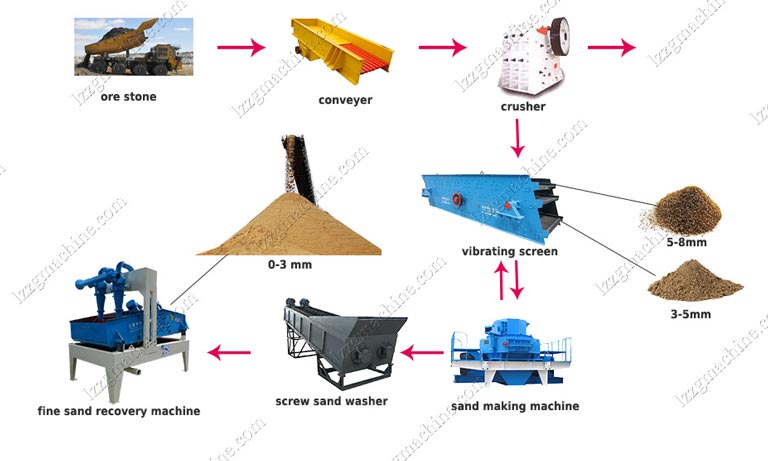 Process of sand making plant
1 primary coarse
The vibrating feeder uniformly conveys the machined sand material to the jaw crusher through the silo for coarse crushing. The coarsely crushed material is sieved by the vibrating screen, and then sent to the impact crusher or cone crusher by the belt conveyor Perform secondary crushing;
2. Intermediate crushing
After the finely crushed river pebbles in the cone crusher, after screening through the circular vibrating screen, the larger particles are returned to the crushing equipment and crushed again;
3. Sand making
Transfer the crushed river pebbles to the sand making machine for further crushing and shaping. Then it is classified into coarse sand and fine sand by circular vibrating screen.
4. Sand washing
Mechanical sand discharged from the sand making machine is sent to the sand washing machine for cleaning, and then enters the dehydration sieve for dehydration and drying. The sand washing tail water passes through the concentration tank and is used for sand washing after purification by the filter press.
5. Packaging
The dehydrated sand is stored and packaged.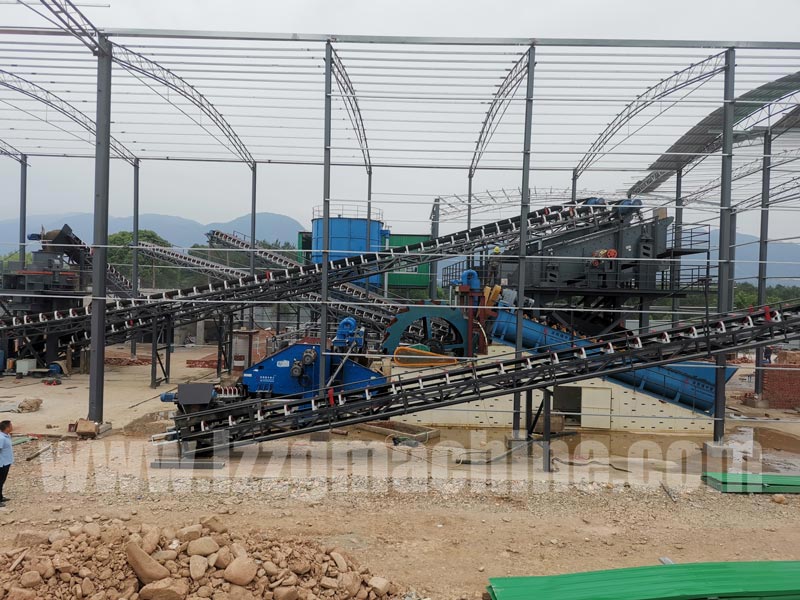 Construction waste crushing and sand making system
The crushed stone sand processing line has the following features
Suitable for large-scale production with a processing capacity of 50-300 tons/hour.
The production cost of finished sand and gravel is only 80% of the conventional production line.
High degree of production automation, low energy consumption and large crushing ratio.
The finished product has excellent particle size and complies with national standards.