LX Screw Sand Washer 200t/h High Efficiency
Screw sand washing machine has a large capacity
The LX SERIES spiral sand washing machine also named sand screw, screw sand washer, which was designed to provide bigger capacity and higher cleaning level than traditional ones. The input materials' max size can be 30mm.
Widely used for cleaning materials in the quarry, minerals, building materials, transportation, chemical industry, water conservancy and hydropower, cement mixture station and so on. They are ideal for construction sand producers, mining companies, salt/brine reclamation, and glass recycling.
Working principle
It is composed of the electric motor, big and small belt pulleys, triangle belt and gear reducer. The screw sand washer adopts inclination of 15 degrees. Under the water tub, three weir plates form the sediment pool. The spiral head is immersed in this pool, and the spiral is driven by electric motor through reducer rotating continuously. The fresh water is fed from porous plate at bottom of sediment pool, and the washed sand is discharged on the top side and delivered by belt conveyor.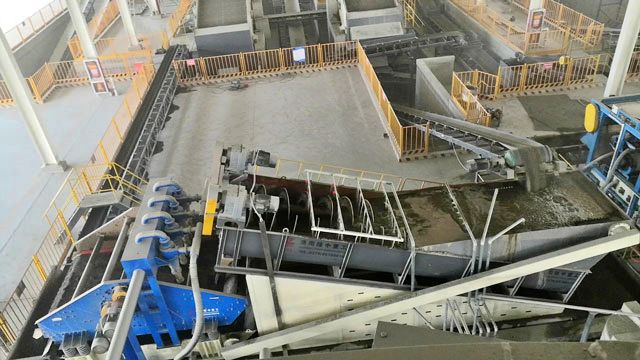 Product Features
1. This sand screw is muti-functions: cleaning, dewatering, and grading.
2. Cleaning and upward conveying at the same time.
3. Low water consumption.
4. Impellers use wear-resisting plate or polyurethane material so as to reduce the running cost.
5. Designed according to low volume and low investment.
screw sand washing machine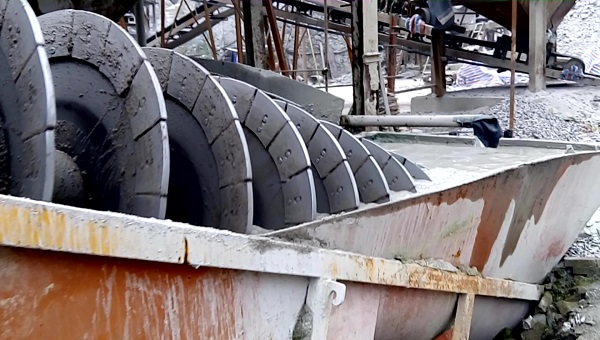 Technical parameters
| | | | | | | | |
| --- | --- | --- | --- | --- | --- | --- | --- |
| Model | Feed size (mm) | Capacity (t/h) | Spiral diameter (mm) | Number of spirals | Trough length (mm) | Power (kw) | Dimensions (mm) |
| LX0760 | ≤10 | 20-40 | 760 | 1 | 6000 | 7.5 | 5700X1420X1900 |
| LX0920 | ≤10 | 30-60 | 920 | 1 | 8000 | 11 | 8710X1630X2080 |
| LX1120 | ≤10 | 40-80 | 1120 | 1 | 8000 | 18.5 | 9230X1840X2130 |
| LX1500 | ≤10 | 50-100 | 1500 | 1 | 8000 | 22 | 9620X2230X2480 |
| 2LX0920 | ≤10 | 60-120 | 920X2 | 2 | 8000 | 11X2 | 8710X2600X2080 |
| 2LX1120 | ≤10 | 80-160 | 1120X2 | 2 | 8000 | 18.5X2 | 9230X3050X2130 |
| 2LX1500 | ≤10 | 120-250 | 1500X2 | 2 | 8000 | 22X2 | 9620X3730X2480 |