No.6 Fine Sand Recycle Machine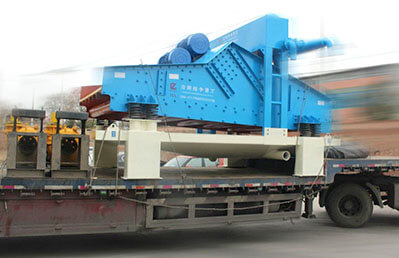 High recovery ratio, Improve sand quality
In the past few years, we improve core technical, select new processing methods and absorb different sites working situation, and successfully make No.6 sand recycling system as our LZZG brand. It is also called as "dewatering type sand recycling system".
Application:It is widely used in mud purification, artificial sand production line, hydropower stationand sand aggregate system, glass raw material processing system and coarse slime recovery, and fine material recovery.
PDF Download Gallery Send Email export@lylzzg.com
Inquiry Online
Leave A Message
Working principle
About No.6 sand recycling system, we still choose polyurethane screen as its main screening part, and add recycling part on TS dewatering screen. The compound of sand and water is transported to cyclone,the sand that centrifugal classification concentrate is provided to the vibrating screen by the heavy grit, and sand and water are effectively separated after vibrating screen dehydration. Through recycling box, fine sand and mud are transported again to the pool, and then they are exhausted from the exit whenthe liquid surface of pool is too high. The material weight concentration recovered by the vibrating screen is 70%-80%.Adjusting fineness module may come true by changing the pump rotation rate, changing pulp concentration, adjusting the flooding water yield, or changing the grit mouth, and then fulfills its three functions-washing ,dehydration and screening.
Features
1. Dewatering type sand recycling system, sand grading is better.
2. Recycling 0.16-3mm fine sand.
3. Recycling rate reaches above 95%.
4. The water content of final sand is within 12%-15%.
5. Compact structure and install easily.
Specifications - Technical Data
Model
Slurry pump
Cyclone(mm)
Dewatering screen
Capacity (m³/h)
Weight (kg)
Power(kw)
Material
Size (mm)
Power (kw)
LZ09-25
11
Cr26
250
900*1800
2*1.1
30-60
2550
LZ12-55
18.5
Cr26
550
1200*2400
2*1.5
50-120
3750
LZ15-65
15*2
Cr26
650
1500*3000
2*3
80-160
4900
LZ18-100
22*2
Cr26
1000
1800*4200
2*4
150-240
9200
LZ24-120
30*2
Cr26
1200
2400*4200
2*7.5
200-300
110000
INFO REQUEST
If you want to know more about our sand processing equipment, please contact us with the following form.
We will provide you with satisfactory service.
Whenever you need help for your solutions, Please remember LZZG is professional manufacture of wet processing equipment.
1000+

technical professionals
Whenever you need us, we are waiting for you