LZZG Sand Recycling System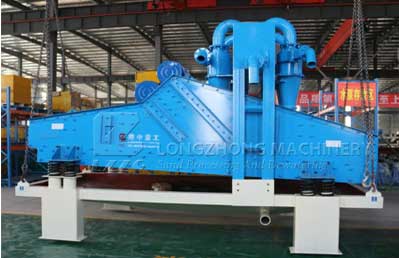 Fine sand recycling system, hydrocyclone application
LZZG is professionla manufacture for construction aggregate and industrial minerals fines recovery and dewatering systems.
In order to solve the problem of fine sand loosing from sand washing machine, LZZG after years of experiments, the program of combining hydrocyclone and dewatering screen to recover fine sand was successfully concluded.
Working principle
LZZG combines hydrocyclone and dewatering screen technology to effectively recover fine sand from sand wash machine effluents.The hydrocyclone underflow containing the captured fines then delievery to a high frequency dewatering screen, where intense vibratory forces dewater and convey the recovered material.
The underflow from the screen is recycled to the hydrocyclones to eliminate the loss of recoverable fines.
Product Features
1.Reduce fine sand loss.
2.Reduce water waste.
3.Improve product quality.
4.Save on investment costs, environmentally friendly.
Technical parameters
Model
Slurry pump
Cyclone(mm)
Dewatering screen
Capacity (m³/h)
Weight (kg)
Power(kw)
Material
Size (mm)
Power (kw)
LZ09-25
11
Cr26
250
900*1800
2*1.1
30-60
2550
LZ12-55
18.5
Cr26
550
1200*2400
2*1.5
50-120
3750
LZ15-65
15*2
Cr26
650
1500*3000
2*3
80-160
4900