The biggest disadvantage is serious loss of fine sand in artificial sand production plant at present, no matter what kind of sand washing machine is used. To solve the above problems, our company designed and developed fine sand recycling machine.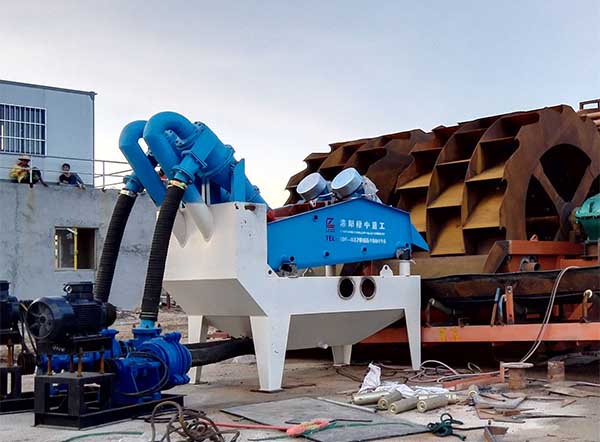 It is an advanced level fine material extraction device designed. It is widely used in hydropower station sand and gravel aggregate processing system, glass raw material processing system, artificial sand production line, coal mining plant coarse coal slurry recovery and environmental protection engineering ( purification), etc., which can effectively solve the problem of fine sand recovery.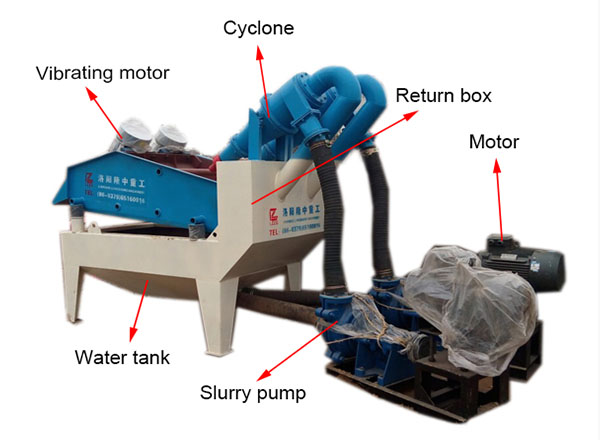 Structure: It consists of motor, slurry pump, cyclone, linear vibrating screen, cleaning tank and return tank.
Working process: the sand water mixture is transported to cyclone by slurry pump, and the centrifugally graded fine sand is supplied to the vibrating screen through the grit nozzle. After dehydration by the vibrating screen, the fine sand is effectively separated from the water, and a small amount of fine sand, mud, etc. are returned. The box is returned to cleaning tank, and when the liquid level of cleaning tank is too high, it is discharged through the discharge port. The linear vibrating screen recovers the weight concentration of the material from 70% to 85%. Adjusting the fineness modulus can be achieved by changing the pump speed, changing the mortar, adjusting the amount of overflow, and replacing the sand nozzle. Thereby completing the functions of washing, dehydrating and grading.