The demand for sand for construction purposes has increased significantly in Sri Lanka in recent years, particularly due to the tsunami disaster that occurred in December 2004. This high demand led to amajor increase in sand mining in many areas. Extraction of sand from river bed and river bank sand deposits has increased greatly. The current demand for sand for building construction within the country is approximately 7–7.5 million cubic meters per year. River sand mining activities have disrupted the natural equilibrium and have caused adverse effects on the environment.
The Nilwala and Ginganga rivers are the main rivers in southern Sri Lanka that are suffering from both illegal and excessive sand mining. However, other rivers in the southern part of the island have also been affected by this problem at different scales. It is estimated that mining of sand from the Nilwala River has increased by three times compared to 1997. Excessive extraction of sand from river channels results in wide-ranging impacts, including the intrusion of seawater into the river, the collapse of the river bank, and loss of riparian land.
The emergence of sand making machine has solved these contradictions well. The mechanism sand is a large source to replace natural sand. The emergence of sand making equipment not only avoids a series of hazards caused by indiscriminate river sand, but also greatly enriches the market. Demand can be described as two-fold, so machine sand is an ideal substitute for river sand.
sand washing production line manufacturer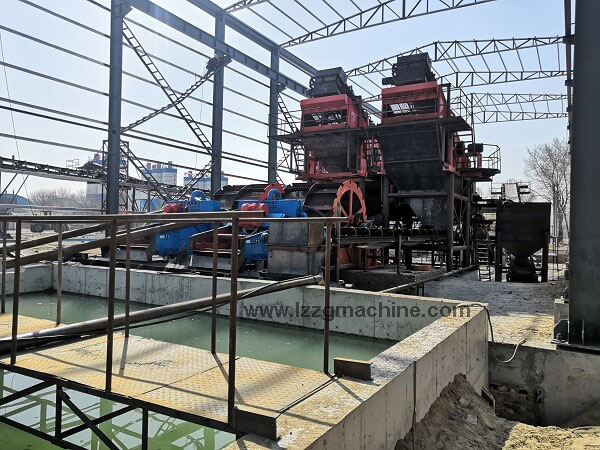 The stone sand production line consists of the sand washing machine, dewatering screen, cyclone, sewage flocculation tank, and filter press.
The gravel production line is a special production line equipment for the production of sand and stone for construction. The sand and gravel production line is special equipment for the production of sand and stone for construction. It is 50% more energy efficient than traditional sand making machines. It can make rocks, sandstones, river pebbles, and other materials into various particle sizes that meet the requirements of construction sand.
Sand washing equipment includes river pebble washing machine, limestone washing machine, kaolin washing machine, iron ore sand washing machine,
silica sand washing machine
, etc.