Tailings dewatering screen is a new type tailings processing equipment, which is composed of dewatering screen and cyclone. It is used for dehydration treatment for some slime and tailings. Moreover, the useful resources of tailings can be recycled, which can protect the environment from pollution, and can also take into account the personal safety of residents living around mine, and at the same time improve economic efficiency.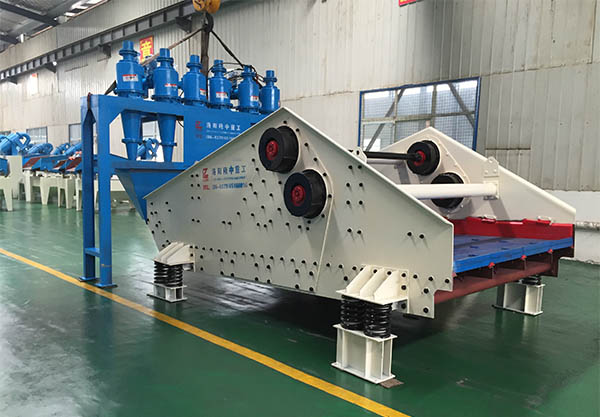 The tailings dewatering screen fully utilizes its tailings recycling technology in tailings treatment of mine, and realizes the comprehensive utilization and sustainable development of resources. The high-frequency dewatering screen has a multi-layered screen. The tailings are recycled because they are screened through this layer of screen. When the concentration of tailings and coal slurry is distributed in the feeding area, the wet materials are distributed. On the sun. Driven by the high-frequency vibration motor, the sieve machine reciprocates along the complex line to form two layers of material. The filter layer formed by the fine-grained material enters the filtering dewatering zone under the action of the water flow, and the material with low moisture is discharged under the vibration of the sieve machine, and the material with high moisture is sent to the collecting box.
Because the tailings dewatering screen treats the tail mineral material with high efficiency and large processing capacity, it is very convenient and quick in equipment installation, operation and maintenance. Therefore, after the tailings are dewatered and treated by the tailings dewatering screen, on the one hand, the waste of resources is avoided, on the other hand, the hidden dangers of environmental pollution are eliminated, and the economic, environmental and safety problems are effectively solved.