Dewatering screens are mainly used to remove the moisture from wet materials, especially for sand, gravels, mines and wet soil. After the water that mixed in materials sieved and dried, the material solid can be used.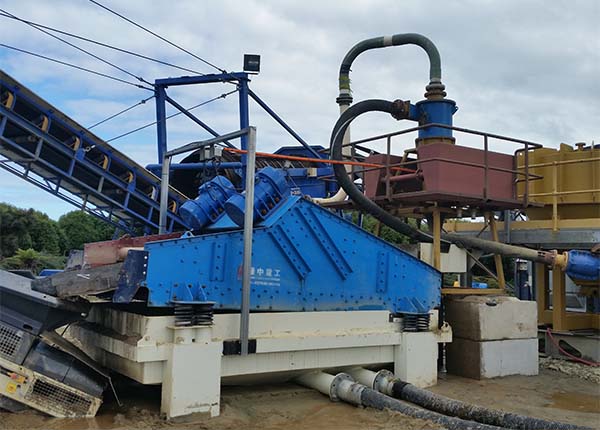 Dewatering screen adopts two-electrode self-synchronization technology, universal eccentric block and an adjustable amplitude vibrator. Mainly composed of screen box, vibration exciter, support system and motor. Two unconnected vibrators are respectively driven by the tape coupling shaft for synchronous reverse operation, and the centrifugal forces generated by the two sets of eccentric mass are superimposed along the component of vibration direction.The reverse centrifugally canceled, thereby forming a single excitation vibration along the vibration direction, make the screen box as a reciprocating linear motion. Dewatering screen has good dewatering effect, large screening treatment capacity, high screening efficiency, light weight, convenient assembly and disassembly, reasonable structure, sturdy and durable, low noise, easy maintenance, no sudden segment spring, convenient maintenance.
After testing, check the above contents, re-tighten all fasteners, and tighten the screen and parts to be officially used. Before doing this, you must do the following
1. Training for operators. It is necessary for operators to understand the structure of various parts of equipment and the simple working principle; before the work, it should be ready to drive, check the flexibility of the rotating parts without jamming, the screen is intact, the parts are not loose, and the bolts are fastened.
2. No-load start-up and stop. The shaker is generally used in the crushing and screening equipment or washing process, and the sieve machine is required to start and stop at no load. Therefore, it is necessary to follow the principle of reverse process start-up and process stop. Stripping is not allowed except for special reasons. When there is accumulation on the screen surface, it must be removed before it can be started. After the operation is normal, the feeding can be started.