Introduction of ceramic technology
1. Kaolin, ceramic powder and other raw materials are ground and uniformly mixed by ball mill according to the proportion of ceramic formula;
2. Particles are between 30-50 mesh through the sifte by vibrating screen;
3. The material that has been sieved enters slurry pool, then water is mixed thoroughly by stirring;
4. The mixed slurry is sieved through vibrating screen. At this time, the mesh number is between 80-325 mesh. The number of meshes depends on the requirements of product;
5. Then sieved slurry is placed in ceramic furnace for drying into ceramic granules, then formed by press filter and calcined in a kiln;
6. Polishing is done to make glazed tiles. In glazing, vibrating screen is required to filter the glaze.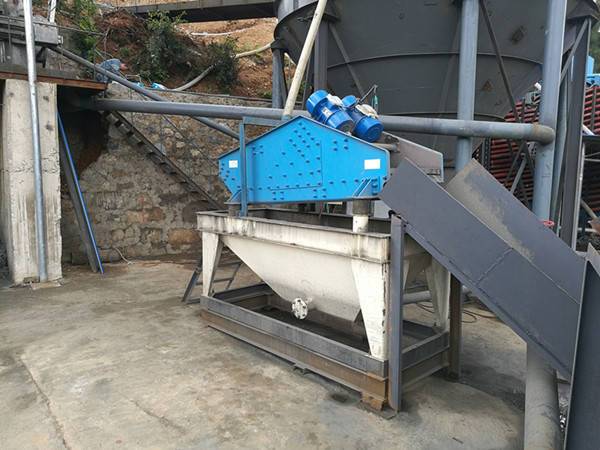 Application of kaoling dewatering screen in ceramic industry
Because of the different types of ceramics, different standards, different raw materials, and many other factors, the requirements for vibrating dewatering screens are different.
1. The mesh for household ceramics, electric porcelain and glaze is high, and the output requirements are not large. Simple single layer structure is suitable. Because if two or more layers of screen are used, the yield will be affected;
2. The mesh of building ceramics and industrial ceramics is relatively high, and the output requirements are large. It is recommended to use double-layer screens or lining screen to protect the service life of upper screen (nylon mesh should not be used because the large elasticity will destroy the upper screen. Stainless steel lining is recommended to use);
3. The bonded meshing method is good for ceramic industry. But some customers suspect that the process is not accepted. The flanged network can also be used, although it is somewhat troublesome, but screen panels can be relatively close when installation, so the screening effect will be very good.
The use of suitable kaoling vibrating screen not only guarantees product quality, but also increases the yield. Therefore, the application of vibrating screen in ceramic industry should have following characteristics:
1. The edge-edge design prevents the splash of slurry; large observation port makes it easy to observe sieve surface;
2. Large processing volume, and the automatic discharge of slag can continuously operate screen for a long service life;
3. The motor has waterproof and dustproof device, long service life, easy operation and convenient maintenance.