Dewater screen is a kind of equipment developed for dewatering, de-mudging and de-construction of materials. Compared with the previous dewatering equipment, dewater screens have some advantages of low investment cost, good dewatering and screening effect, energy saving, environmental protection, simple structure, convenient operation and small floor space. Currently, dewatering screens have been used in many industries, mainly in as follows.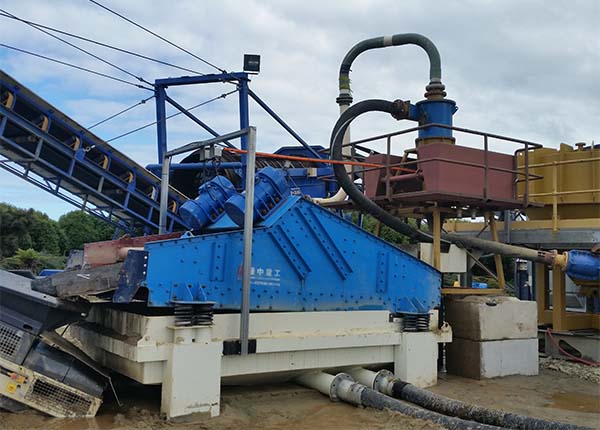 1. For dehydration operation of K-feldspar mine after ball milling
In the production process of potassium feldspar, the products after ball mill discharges enter spiral classifier for solid-liquid separation. However, the water content o finished product after separation by spiral classifier is high, which does not reach the standard of dry heap. So the dewatering sieve is used instead of spiral classifier. After the finished potassium feldspar is dehydrated, solid water content is not more than 15%. The whole plate meets the standard of dry heap, and the fine sand lost by previous spiral classifier is selected and increased. The dewatering screen is economically efficient.
2. For secondary demineralization after spiral classifier in barite ore
In the selection of barite with higher mud content, it is necessary to separate the barite from mud by using spiral classifier. However, spiral classifier can only select the barite of larger particles, and the smaller one will slip away with mud, causing nearly 20% of fine stones to be lost. So dehydration screen was installed after spiral classifier, so that the mud flowing out of spiral classifier entered dewatering screen for secondary beneficiation. Finally, in daily processing capacity of 12,000 m3, finished product of 2400 m3 of barite was proposed, which greatly improved the economic efficiency.
3. For dewatering in mine tailings dry row
Tailings dewatering process is consisted of thickener and filter press in the tailings dry row operation. It can still be used in the case of 95% of slurry particles, and the final mud water content is about 20%. However, the filter cloth of filter press has a short service life of up to 3 months, and the discharge is discontinuous. Now the tailings dry discharge process (cyclone, thickener, dewatering screen) was used, which is basically suitable for the dehydration requirements of any minerals within 80% of -325 mesh. The final mud water content is about 15%, which can be continuously discharged. No fragile parts, long service life, and cost is about 50% lower than the filter, which not only improves the tailings concentration efficiency, but also effectively reduces the investment.
In addition to the above industries, dewatering screens are also used in coal preparation, industrial wastewater treatment, sludge dewatering, environmental engineering mud purification, ceramic raw material dehydration and other industries. It can be seen that the dewatering screens is large and widely used.LZZG is one of the enterprises for dewatering screens. Its dewatering screen has complete models, reliable quality and good after-sales.