What are the wear parts of the cone crusher?

August.21,2023
The cone crusher has a large crushing ratio, high efficiency, low energy consumption, and uniform particle size. It is suitable for medium and fine crushing of various ores and rocks. It is a commonly used crushing equipment in mineral processing and sand making production lines! Because most of the crushed materials are high-hardness ores, the wear and tear of spare parts is inevitable in the daily work of cone crushers.
Cone crusher wearing parts include crushing wall, rolling socket wall, main shaft and cone bushing, thrust plate and gear, frame and spherical bearing, eccentric bushing and straight bushing, bushing, taper bushing, etc. Consumable parts need to be replaced periodically.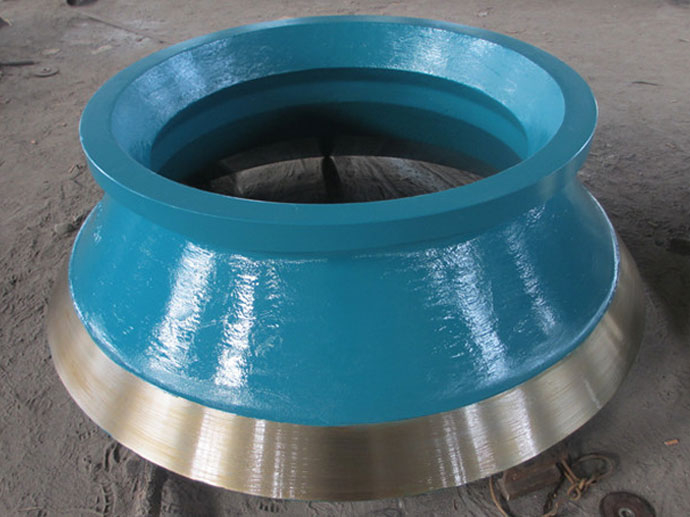 broken wall
The crushing wall and the rolling wall are one of the important components of the cone crusher. The material is directly crushed and crushed in the crushing chamber composed of the two. Therefore, the wear of the crushing wall and the rolling wall is relatively serious.
Spindle and taper bushing
Under the normal working condition of the crusher, both the main shaft and the cone bushing have obvious wear marks at a height of about 400mm from the top of the cone bushing.
Thrust plate and gear
Boshan Gear Factory Mining equipment gear
The thrust plate wears more seriously along the outer circle. Due to the high linear speed of the outer ring, the wear is faster than that of the inner ring. And because of the skew of the eccentric shaft sleeve, its outer ring wear is aggravated. When the crusher is running, the large bevel gear moves around the crusher in a circle with the radius of the gap between the straight bushes, which will cause additional impact vibration and additional wear during the operation of the gear, shortening the life of the gear.
Frame with spherical bearings
The wear of the spherical tile is a process that gradually develops from the outer ring to the inner ring. In the later stage of use, the moving cone may be unstable, and the main shaft may be stuck at the lower opening of the cone bushing, resulting in cracks and damage to the lower opening of the cone bushing, and even the phenomenon of "speeding" and damage to the spherical tile. crack.