Portable Aggregate Screen Deck Size Parameters

February.14,2022
The circular vibrating screen is mainly composed of a screen box, a screen, a vibrator and a damping spring. In general, the YA and 2YA types are textile screen surfaces, and the YAH type is a punching screen surface. All types of screen surfaces can be satisfied.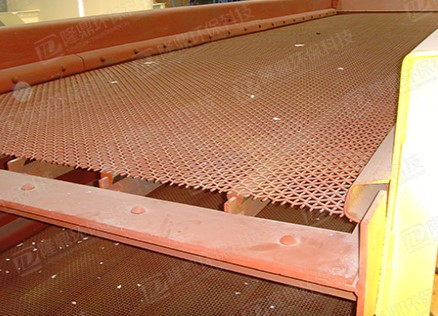 How to replace the screen of circular vibrating screen
1. Screen selection: It is necessary to select a screen with the same mesh number. This is very important. If the mesh number of the screen does not match, it will directly affect the accuracy and output of the screened material;
2. Laying the screen: When installing the screen, the screen should be laid flat on the pallet, and the screen should be leveled as much as possible (but not too large, otherwise it will affect the life and accuracy of the screen), and then use the fastening device to The screen is fixed on the mesh frame.
It should be explained here: the general three-dimensional rotary vibration screen frame is a letter frame. The screen can be pressed on the main grid by the fastening device. The ultrasonic vibrating screen mesh is directly attached to the mesh frame, and it is only necessary to tighten the mesh and paste it during installation.
3. Tightening: When the screen is fastened on the main frame, check whether the surrounding screens are all pressed on the main frame, and adjust reasonably if any looseness is found.
The installation of the screen of the circular vibrating screening equipment is the easiest among all screening equipment. The small circular vibrating screen can be installed with a netting tool, and the installation of the screen over 1200mm can be completed by 4-5 people.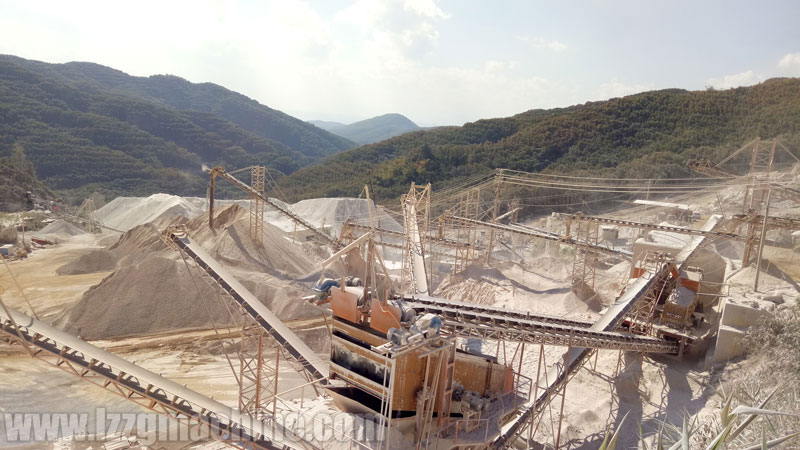 This special new vibrating screen design is based on our 3YA1230 (three layers circle vibrating screen). It is installed a steel base under vibrating screen body with high pressure wheels for moving and column with hole for fixing on Cement-based when working. Top feature is that it can be convenient to be moved in certain range of working site, save the project budget. This sand screening machine is the best choice for separating the gravel and also suitable for mining, construction material, transportation, etc.
Aggregate Screen Parameters
| | | | | | | | | |
| --- | --- | --- | --- | --- | --- | --- | --- | --- |
| Model | Number of sieve layers | Screen area (m2) | mesh size (mm) | feed size (mm) | processing power (t/h) | Motor power (kw) | machine weight (kg) | Dimensions (mm) |
| YA1230 | 1 | 3.6 | 5-50 | 0-200 | 0-80 | 5.5 | 2494 | 3157*1860*395 |
| 2YA1230 | 2 | 3.6 | 5-50 | 0-200 | 0-80 | 5.5 | 2802 | 3157*1860*870 |
| 3YA1230 | 3 | 3.6 | 5-50 | 0-200 | 0-80 | 7.5 | 3106 | 3157*1860*1210 |
| 2YA1548 | 2 | 7.2 | 5-50 | 0-200 | 0-160 | 15 | 3982 | 5200*2138*1260 |
| 3YA1548 | 3 | 7.2 | 5-50 | 0-200 | 0-160 | 15 | 4387 | 5200*2138*1835 |
| 2YA1848 | 2 | 8.64 | 5-80 | 0-200 | 0-200 | 18.5 | 5463 | 5200*2500*1300 |
| 3YA1848 | 3 | 8.64 | 5-80 | 0-200 | 0-200 | 18.5 | 5985 | 5200*2500*1880 |
| 2YA1860 | 2 | 10.8 | 5-80 | 0-200 | 0-200 | 18.5 | 6634 | 6498*1983*1300 |
| 3YA1860 | 3 | 10.8 | 5-80 | 0-200 | 0-200 | 22 | 7030 | 6498*2362*1880 |
| 2YA2160 | 2 | 12.6 | 5-100 | 0-200 | 0-250 | 22 | 7500 | 6500*2700*1260 |
| 3YA2160 | 3 | 12.6 | 5-100 | 0-200 | 0-250 | 22 | 8211 | 6500*2700*1889 |
| 2YA2460 | 2 | 14.4 | 5-100 | 0-200 | 0-300 | 30 | 8693 | 6500*3000*1300 |
| 3YA2460 | 3 | 14.4 | 5-100 | 0-200 | 0-300 | 30 | 9000 | 6500*3000*1899 |
| 2YA2470 | 2 | 16.8 | 5-100 | 0-200 | 0-300 | 37 | 9398 | 7500*3000*1300 |
| 3YA2470 | 3 | 16.8 | 5-100 | 0-200 | 0-300 | 37 | 12330 | 7500*3000*1899 |
| 2YA3070 | 2 | 21 | 5-100 | 0-200 | 0-300 | 45 | 13861 | 7500*3000*1300 |
| 3YA3070 | 3 | 21 | 5-100 | 0-200 | 0-300 | 45 | 15000 | 7500*3000*1899 |