Fine silica sand processing method

July.08,2021
Silica sand is the main raw material for making ceramics and glass, so the market demand has been high. It is mainly processed by crushing, powdering, and iron removal.
Fine silica sand removal methods instruction.
The mechanical equipment required in the silica sand dry iron removal method is a crusher, a dry ball mill, a dry iron remover, a dry grading system, and a pulse dust collector. First, the large pieces of quartz sand are sent to the crusher for pulverization, the crushed silica sand is sent to the dry ball mill for grinding and pulverization, and the pulverized quartz sand is sent to the dry separator by the conveyor for iron removal. If it is necessary to classify the silica sand powder, send the iron-removed quartz sand powder into the linear vibrating screen or swing screen to screen out the required products of different particle sizes (coarse-grained part), and the fine-grained part needs to enter the wind grading To be done.
A large amount of quartz sand dust will be generated during the whole production process, and the quartz sand dust will float into the air, causing great harm to personal safety and the production environment. Therefore, it is necessary to add a pulse dust collector at each inlet and outlet to recover dust. The quartz sand dry powder production line is suitable for small-scale production with good raw material quality and low requirements for the quality of finished quartz sand (above 0.5%).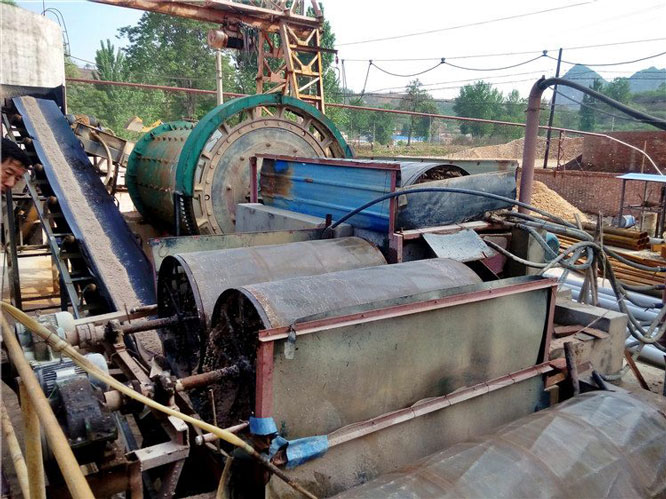 The silica sand wet iron removal method requires roughly the same mechanical equipment as the dry method. The mechanical equipment includes: jaw crusher, wet ball mill, grading system, and high-efficiency wet iron removal system. The crusher pulverizes the quartz sand at a coarse particle level to reach the feeding size of the ball mill. The output of the wet ball mill is much greater than that of the dry ball mill, and no dust is generated. After being ground by a ball mill and passing through fine classification, the fine-grained quartz sand directly enters the high-efficiency iron removal system. The iron removal system is composed of a strong magnetic, high-gradient pulse magnetic separator independently designed, developed and manufactured by our company. It is dedicated to removing quartz The iron in sand, albite, and quartz sand is very effective.
After the separation of the magnetic separation system, the iron content of the silica sand can generally be reduced to less than 0.02%, so the wet iron removal process is suitable for the production of high-quality quartz sand powder. If dry quartz sand powder is needed, the iron-removed quartz sand powder can be dried by a dryer.