Quartz sand production line equipment configuration, 100 TPH
Process analysis of sand production line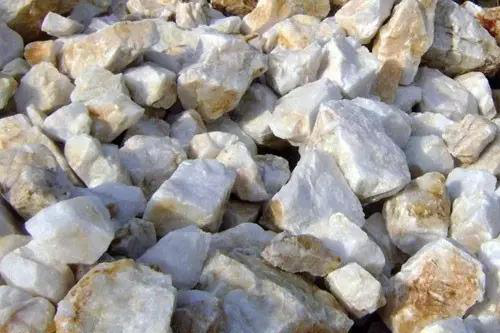 step 1. Feeding
The stone is blasted from the mountain and the large stone is sent to the vibrating feeder through the dump truck;
step 2. coarse crushed
The vibrating feeder sends the stone uniformly into the coarse and broken, and the coarse broken stone is first-stage crushed, and the stone material from the coarse broken material is transported to the fine broken through the belt conveyor for secondary crushing;
step 3. sand screening
The crushed material is conveyed by a belt conveyor to sand producing machine for fine crushing, and the finely crushed material is sieved by a circular vibrating screen for coarse sand, medium sand, fine sand and the like.
step 4. sand wash, fine sand recovery
For the sand powder containing strict requirements, a sand washing machine can be added behind the fine sand. The sewage discharged by the sand washing machine can be recovered by the fine sand recycling machine to reduce environmental pollution on the one hand and G sand production on the other hand.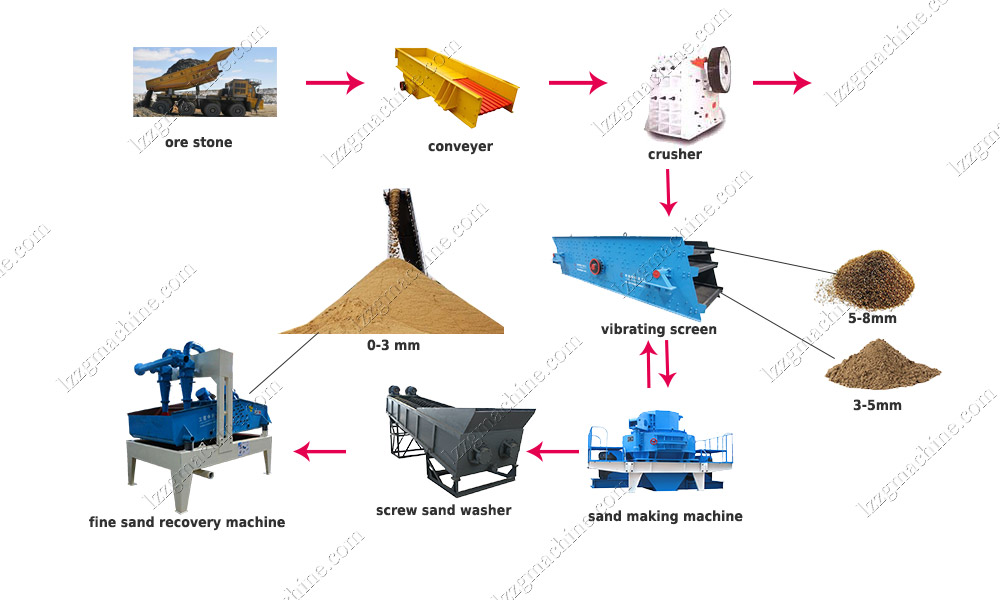 Quartz stone sand production line equipment design
the sand making process of ore materials
 Material: quartz stone
Mohs hardness: 5-6
Density: 2.64g/cm3-2.71g/cm3
Quartz stone is a hard, wear-resistant, chemically stable silicate mineral. Its main component is silica. It is an important industrial mineral raw material. It is not a chemical dangerous product. It is usually processed after crushing, sand making, etc. It is used in building materials, ceramics, etc., even in the G technology electronics industry. It is mainly processed and processed by the quartz stone production line composed of the following quartz stone processing equipment.

Quartz stone sand production plant
Production: 30-45 tons per hour
Equipment configuration: silo + fine smashing two + sand making machine + vibration dewatering screen + sand washing machine + fine sand recycling machine + belt conveyor
Advantages
The sand production line has high automation degree, low running cost, high breaking rate, energy saving, large output, less pollution, and simple maintenance. The produced mechanism sand meets the national construction sand standard, the product has a uniform particle size, good granular shape, and reasonable gradation.
The equipment configuration of the sand production line is mainly determined by the customer's specifications of the stone and the use of the stone and the stone. We provide comprehensive services before, during and after the sale, and configure the process according to the customer's production site, and strive to make the most reasonable for the customer. The most economical production line.