200TPH pebble sand production line design
Advantages of pebble sand
The pebble stone raw material has large reserves and wide sources. The sand production process is simple and the investment cost is low. The finished goose egg grit is uniform and round, the gradation is reasonable, the fineness modulus is adjustable, and the stone powder content is low, which is high-quality mechanism sand. The advantages of the series and so on have prompted the pebble stone sand making the project to be more valued by users, providing more sand and gravel aggregates for infrastructure and bridges.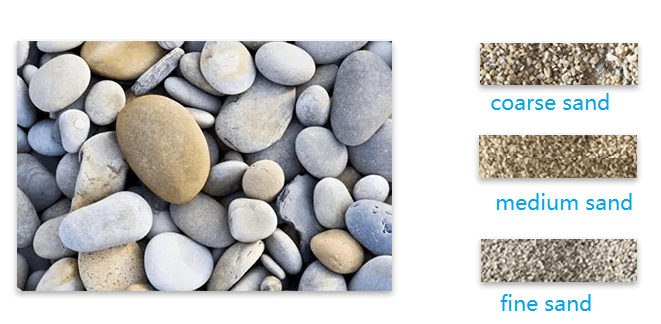 pebble stone sand production line equipment design
Mohs hardness: 7 or so
Material* potential: hard quality, strong pressure resistance, is the main material for the production of artificial sand
Cobblestone or pebble is a hard solid like goose egg formed after thousands of years of mountain water impact and running water. Its main component is silica. The pebbles are odorless, non-marking, wear-resistant and corrosion-resistant. They are a kind of granular green building materials, and the artificial sandstone produced by them meets the requirements of artificial sandstone everywhere.
Production: 50-200 tons per hour
Equipment configuration: silo + fine smashing+ sand making machine + vibration dewatering screen + sand washing machine + fine sand recycling machine + belt conveyor