Easy replacing Rotary screen sieve for sale

September.09,2019
High-quality rotary screen with wear-resistant sieve
The drum screening machine is common equipment used in the production of compound fertilizer. It is mainly used for the separation of finished products and return materials. It can also realize the classification of finished products and make the finished products evenly classified. The combination screen is convenient for maintenance and replacement. The machine has a simple structure, convenient operation, and stable operation. The rotary screen was exported to Saudi Arabia, Thailand, Indonesia, South Africa, Australia, Europe, etc.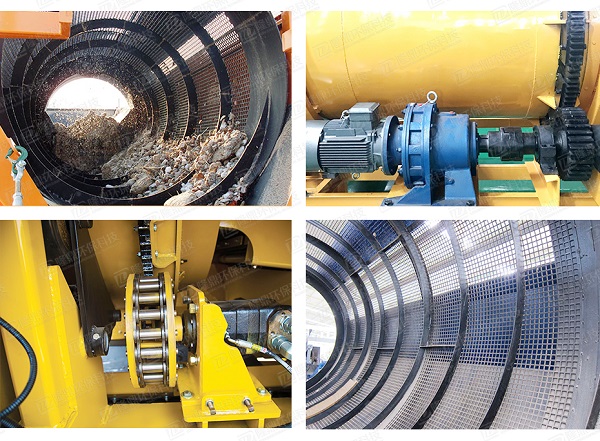 Mesh size: 5-15 mm
Max feeding size 40 mm
The drum screen is specially developed for power plants, coking plants, building materials, metallurgy, chemical industry, minerals, and other industries. It overcomes the problem of screen clogging in the screening of wet materials by circular vibrating screens and linear screens and improves the screening system. Yield and reliability. The sieved sand and gravel materials can be automatically separated, and are ideal materials for manufacturers such as buildings, highways and cement building prefabricated parts.
The material has beautiful appearance, bright color, light weight, high mechanical strength, heat insulation, sound insulation, corrosion resistance, excellent weather resistance, no secondary decoration, and various colors. The rotary sieve is easy to replace.
1. High tensile strength, high tear strength, excellent wear resistance, good resilience, small compression deformation, and long service life.
2, strong bonding with the metal matrix, not easy to layer and fall off.
3. High surface finish and stable size.
Working principle of Trommel Screen
The trommel separator is tilted on the rack. The motor is driven by the reducer to rotate the drum unit around its axis. After the material enters the drum device, due to the tilting and rotation of the drum device, the material on the screen surface is flipped and rolled so that the qualified material (the product under the screen) is discharged through the discharge port at the bottom of the drum screen, and the unqualified material(the product on the screen) is discharged through the discharge port at the tail.
Tel: +86-379-65160016   Fax: +86-379-65160018
Cell: +86-13598484277           +86-18736301510
Email: export@lylzzg.com
Address: Shuangyue Road, Changdai Town, Mengjin County, Luoyang, China