SS304 Sand Dewatering Screen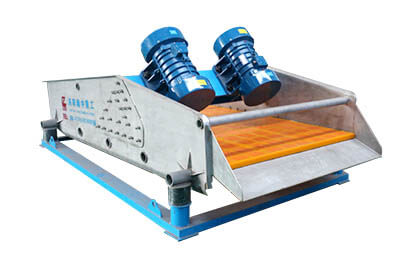 Belong to the dewatering equipment, but the structure of dewatering screen is different when acting on different material, For example, sand dewatering machine in sand washing production line is different from the tailings dewatering sieve which is commonly used in the concentrating mill.
This type of stainless steel dewatering screen is borned by the R & D department and through many times testing . with low energy wasting and high efficiency as a whole, only for the special material. Mainly used for quartz sand, potassium feldspar, high acidic or alkaline materials and so on.
Working principle
SS304 dewatering screen adopts dual-motor self-synchronization technology. The motors coordinate with universal eccentric and adjustable amplitude vibrator. When the two motors start to work, the vibrators move reversely at the same time. The centrifugal forces is generated by the eccentric blocks will superpose themselves and form a single direction vibration. The high frequency vibration drives the screen move back and forth in line repeatedly. So the sand can be dehydrated and filtered.
Product Features
1.Variety of screen sizes
2.Custom sizes to fit your plant
3.Low moisture content
4.Complete dewatering deck using urethane modules
5.Goodyear rubber suspensions for long life
6.Highest quality vibrating electric motors
7.Superior design to sub-decks to support urethane screens
9.Acid and alkali corrosion resistance, suitable for special occasions
Technical parameters
| | | | | | | |
| --- | --- | --- | --- | --- | --- | --- |
| Model | Screen area (m²) | Power (kw) | Capacity (t/h) | Feed size (mm) | Weight (kg) | Overall dimension (L*W*H)(mm) |
| TS0918 | 1.62 | 2*0.75 | 10-20 | ≤10 | 1600 | 1885*1290*1024 |
| TS0924 | 2.16 | 2*0.75 | 10-20 | ≤10 | 2000 | 2485*1290*1224 |
| TS1224 | 2.88 | 2*1.5 | 30-50 | ≤10 | 2300 | 2485*1590*1324 |
| TS1230 | 3.6 | 2*2.2 | 30-50 | ≤10 | 2530 | 3085*1590*1424 |
| TS1236 | 4.32 | 2*2.2 | 30-50 | ≤10 | 2880 | 3685*1590*1524 |
| TS1530 | 4.5 | 2*3 | 50-80 | ≤10 | 3180 | 3083*1890*1421 |
| TS1536 | 5.4 | 2*3 | 50-80 | ≤10 | 3300 | 3683*1890*1601 |
| TS1836 | 6.48 | 2*4 | 100-150 | ≤10 | 3750 | 3715*2466*1855 |
| TS1842 | 7.56 | 2*4 | 100-150 | ≤10 | 4380 | 4315*2466*2044 |
| TS1845 | 8.1 | 2*4 | 100-150 | ≤10 | 4680 | 4515*2446*2135 |
| TS1848 | 8.64 | 2*6.5 | 100-150 | ≤10 | 4960 | 4915*2466*2244 |
| TS2442 | 10.08 | 2*7.5 | 130-180 | ≤10 | 5130 | 4315*3085*2042 |
| TS2445 | 10.8 | 2*7.5 | 130-180 | ≤10 | 5450 | 4615*3085*2140 |
| TS2448 | 11.52 | 2*7.5 | 130-180 | ≤10 | 5880 | 4915*3085*2242 |