Movable 3 Layer Vibrating Screen for mining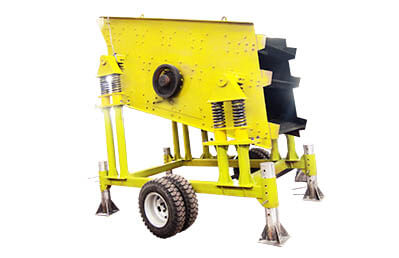 Mobile convenience, Reliable operation
Movable 3 Layer mining vibrating screen is LZZG customized product. This special new vibrating screen design is based on our Model NO. 3YA1230 (three layers circle vibrating screen), it is installed a steel base under vibrating screen body with high pressure wheels for moving and column with hole for fixing on Cement-based when working. Top feature is that it can be convenient to be moved in certain range of working site, save the project budget. This sand screening machine is best choice for separating the gravel and also suitable for mining,construction material,transportation, etc.
Working principle
Movable 3 Layer Vibrating Screen is vibrated by the circling motion. The screen line of material is long and the screening specification is various. Every screen specification is clear. It adopts the tubbish vibrator and eccentric adjustment, with the feature of strong vibration, high screening efficiency and small vibrating noise. This machine is durable, easy to maintain, safe to use. So it is widely used in mining, construction material, transportation, energy and chemical industry for classification.
Product Features
1.Cylinder-type eccentric shaft and eccentric block to make strong vibrating force.
2.Long material screening line, various sieving specifications.
3.Simple structure, reliable operation, low noise, low power consumption, mobile convenience.
4.High screening efficiency, large capacity, less block.
Technical parameters
| | | | | | | | | |
| --- | --- | --- | --- | --- | --- | --- | --- | --- |
| Model | Number of sieve layers | Screen area (m2) | mesh size (mm) | feed size (mm) | processing power (t/h) | Motor power (kw) | machine weight (kg) | Dimensions (mm) |
| YA1230 | 1 | 3.6 | 5-50 | 0-200 | 0-80 | 5.5 | 2494 | 3157*1860*395 |
| 2YA1230 | 2 | 3.6 | 5-50 | 0-200 | 0-80 | 5.5 | 2802 | 3157*1860*870 |
| 3YA1230 | 3 | 3.6 | 5-50 | 0-200 | 0-80 | 7.5 | 3106 | 3157*1860*1210 |
| 2YA1548 | 2 | 7.2 | 5-50 | 0-200 | 0-160 | 15 | 3982 | 5200*2138*1260 |
| 3YA1548 | 3 | 7.2 | 5-50 | 0-200 | 0-160 | 15 | 4387 | 5200*2138*1835 |
| 2YA1848 | 2 | 8.64 | 5-80 | 0-200 | 0-200 | 18.5 | 5463 | 5200*2500*1300 |
| 3YA1848 | 3 | 8.64 | 5-80 | 0-200 | 0-200 | 18.5 | 5985 | 5200*2500*1880 |
| 2YA1860 | 2 | 10.8 | 5-80 | 0-200 | 0-200 | 18.5 | 6634 | 6498*1983*1300 |
| 3YA1860 | 3 | 10.8 | 5-80 | 0-200 | 0-200 | 22 | 7030 | 6498*2362*1880 |
| 2YA2160 | 2 | 12.6 | 5-100 | 0-200 | 0-250 | 22 | 7500 | 6500*2700*1260 |
| 3YA2160 | 3 | 12.6 | 5-100 | 0-200 | 0-250 | 22 | 8211 | 6500*2700*1889 |
| 2YA2460 | 2 | 14.4 | 5-100 | 0-200 | 0-300 | 30 | 8693 | 6500*3000*1300 |
| 3YA2460 | 3 | 14.4 | 5-100 | 0-200 | 0-300 | 30 | 9000 | 6500*3000*1899 |
| 2YA2470 | 2 | 16.8 | 5-100 | 0-200 | 0-300 | 37 | 9398 | 7500*3000*1300 |
| 3YA2470 | 3 | 16.8 | 5-100 | 0-200 | 0-300 | 37 | 12330 | 7500*3000*1899 |
| 2YA3070 | 2 | 21 | 5-100 | 0-200 | 0-300 | 45 | 13861 | 7500*3000*1300 |
| 3YA3070 | 3 | 21 | 5-100 | 0-200 | 0-300 | 45 | 15000 | 7500*3000*1899 |