Energy-saving sand and gravel production line instruction

December.07,2020
In recent years, the amount of sand and gravel required for engineering construction, mines, transportation, road construction, and water conservancy has increased. Traditional sand production is not only contributing to national construction but also harming the environment. The use of new sand making technology is imminent.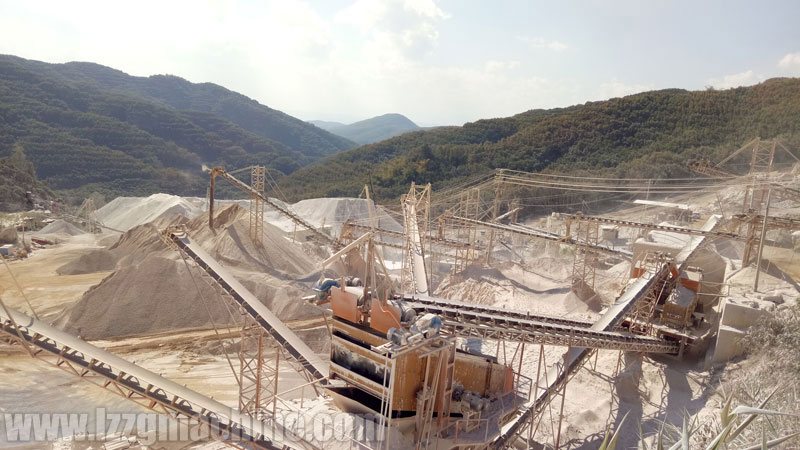 At present, the high-efficiency, energy-saving and environmentally friendly sand production line has become a new replacement product for a single sand making machine. The sand and gravel production line is a special equipment for the production of construction sand and stone, which is about 50 to 60% energy-saving than traditional sand making machines. The sand and gravel production line is widely used in stone factories, mines, metallurgy, building materials, highways, and railways. , Water conservancy, chemical industry and so on. The production capacity ranges from 50-500t/h, and the particle size of the finished product can be combined and classified according to the different needs of users.
LZZG has developed a new energy-saving and environmentally-friendly production line, which is about 30% more energy-saving than the traditional sand and sand production line. The energy-saving and environmentally-friendly production line is equipped with vibrating feeder, jaw crusher, cone crusher, impact crusher, vertical shaft It consists of impact crusher, circular vibrating screen, sand recovery system, belt conveyor, centralized electric control and other systems. The production line has a high degree of automation, reduces the loss of sand and stone, and almost does not require manual operation. Its production efficiency is high, operating cost is low, output is large, and profit is high. The finished stone has uniform particle size and good shape, which meets the national high-speed material requirements.
The sand and gravel production line adopts a new large-scale equipment configuration. The production line is well-configured and the most distinctive is the use of a gravel recovery system, which can reduce the loss of sand and gravel, save resources, and reduce pollution, and has an obvious effect on environmental protection. In addition, the production line uses wear-resistant materials to reduce product loss and increase the life of the production line. Shanghai Xiazhou Heavy Industry has created a new market in the field of mining machinery based on the business philosophy of "quality first, reputation first, management-oriented, and service-oriented".