Spiral classifier for Iron Ore, Copper, Zinc cleaning and processing

September.19,2019
Ore spiral classifier application
Spiral stone classifier is a large-scale mining equipment used in black and non-ferrous metallurgical mines, steel, metallurgy, chemical industry and building materials to wash ore and stone materials like iron ore sand,  copper ore, gold sand, placer sand. Its processing capacity is large to meet the requirements of large productivity for the cleanliness of ore and stone. The ideal equipment.
The iron ore spiral classifier performs mechanical classification according to the difference in the specific gravity of the solid particles and the rate of sedimentation in the liquid. It is suitable for washing, grading and impurity removal in metallurgy, building materials, hydropower, and other industries. The spiral classifier is suitable for the washing operation of granular and coarse-grained materials.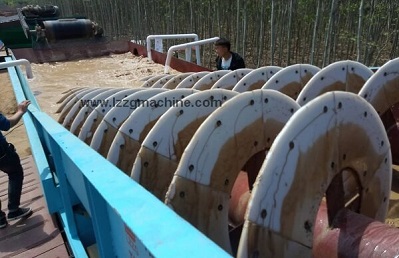 Principle of mineral processing
The spiral classifier uses the buoyancy of water to separate dust and impurities from the sand. After the agitation of the spiral piece, the water is filtered to remove impurities and enhance the conveying purpose. And during the lifting process, mixing work was also carried out. It is sanding to achieve even mixing, no fine, coarse sand.
The spiral washing machine has the advantages of long spiral body, good sealing system, simple structure, strong processing capacity, and convenient maintenance. The characteristics of sand content and low mud content. Widely used in various ore mining industries.
Machine structure
It consists of a trough body, a reducer, a motor, a central shaft, a spiral blade, and a bracket. The bracket is welded on the central shaft, and the spiral blade is mounted and then pressed with bolts so that the blade does not sag and does not deform.
Spiral ore classifier installation
After the washing machine is shipped, the unit should immediately check whether the parts are complete and damaged. Make sure the machine is intact before installing it.
The unit of use shall design the basic construction drawing of the spiral classifier according to the specific conditions of the site, and install the machine firmly on the solid concrete foundation.
The machine must be installed at an oblique angle as required by the installation drawings.
The motor is mounted on the guide rail to adjust the tightness of the belt. The pulley and the motor pulley should be parallel when installed.
After adjusting according to the above requirements, turn the rotor disk a few turns to check for stuck or collision.