Fine sand coarse sand separation machine working principle

June.03,2021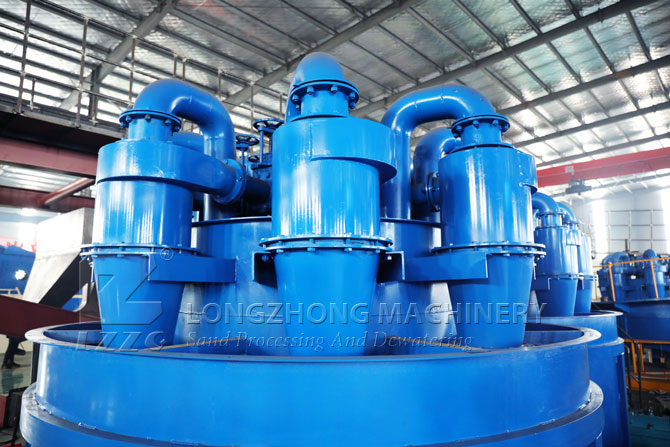 Fine sand screening equipment.
The high-efficiency graded cyclone adopts a unique feed structure design and is composed of cone segments with different cone angles.
While dealing with the same material, compared with the traditional cyclone, the overflow fineness is effectively improved and the classification efficiency is greatly improved. when the same overflow fineness is obtained, the large diameter cyclone can be used instead of the small diameter cyclone.
In field use, an overflow of 325 mesh (90%) can be obtained from 63% of coarse-grained materials with-200 mesh after only one classification.
Principle of separation of coarse sand and fine sand.
The cyclone is separated by centrifugal sedimentation.
The two-phase mixture to be separated is fed from the feed port of the hydrocyclone at a certain pressure, thus forming a strong rotational separation movement in the hydrocyclone.
Due to the density difference between the light phase and the heavy phase or the particle size difference between the coarse and fine particles, the centrifugal force and the power of the fluid are different, and most of the light phase (or fine particle level) is overflowed through the overflow outlet of the hydrocyclone, while the heavy phase (or coarse particle level) is discharged through the bottom flow port.
Cyclone Features
The combination of cyclone, concentrator and filter can efficiently complete the concentration and dehydration process.
After the hydrocyclone is concentrated and dehydrated, the increase of underflow concentration creates good conditions for filtration, which can greatly increase the capacity of the filter, and the reduction of overflow concentration can effectively reduce the load of the concentrator.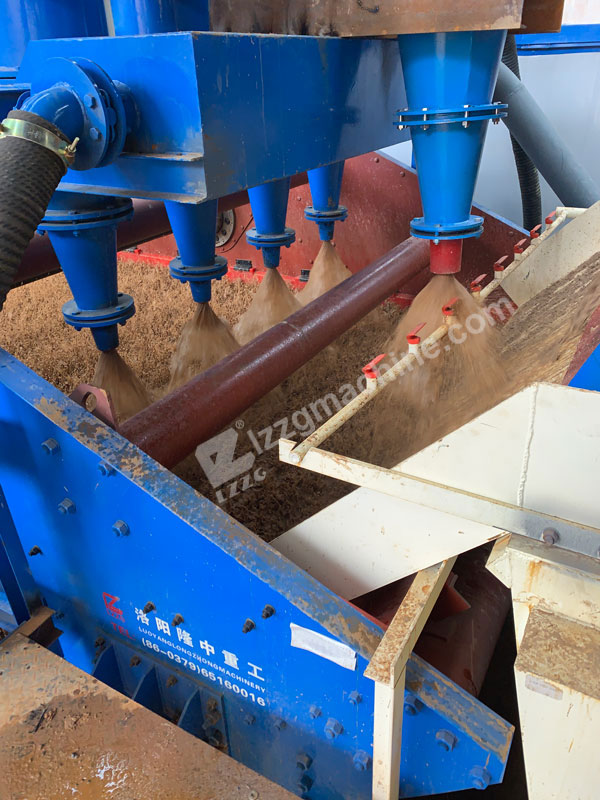 Application in sand washing plant for fine sand recovery
At present, most of the existing artificial sand production lines adopt wet production process, and the disadvantage of sand washing machine is that there is more loss of fine sand, some of which can reach more than 25%, which not only causes economic losses, but also seriously affects the gradation of sand, resulting in unreasonable gradation and coarse fineness modulus, which greatly reduces the quality of machine-made sand products.
In order to solve the above problems, our company has developed a fine sand recovery device, which is widely used in sand and gravel aggregate processing system, glass raw material processing system, artificial sand production line, recovery of coarse slime in coal preparation plant and environmental protection engineering (mud purification), etc., which can effectively solve the problem of fine sand recovery.