Dewatering screen improves sand washing efficiency in New Zealand sand making plant

July.16,2019
The dewatering screen is also called linear vibrating screen. The main functions are dehydration and de-intermediation. It can be used for washing sand in sand and gravel plant, coal slurry recovery in the coal preparation plant, dry discharge of tailings in ore dressing, etc. Frequency dewatering screen, etc.
The linear dewatering screen adopts dual-motor self-synchronization technology, universal eccentric block, and adjustable amplitude vibrator. Mainly composed of screen box, vibration exciter, support system, and motor. The tape coupling shaft drives two mutually unconnected vibrators for synchronous reverse operation, and the centrifugal force generated by the two sets of eccentric mass is superimposed along with the component of the vibration direction, and the reverse centrifugal cancellation cancels, thereby forming a single excitation vibration along the vibration direction. , make the screen box as a reciprocating linear motion.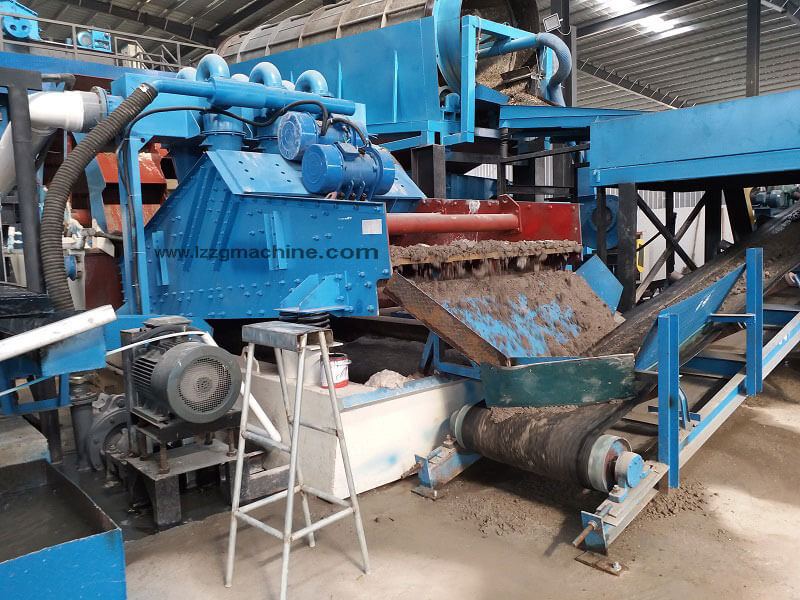 Advantages of using sand and stone dewatering screens in New Zealand mines
1. It can be used together with New Zealand wet sand production line and sand washing machine, and can also be used alone. The sand and gravel are cleaned by a sand washing machine. After passing through the sand and stone linear dewatering screen, the water is graded, de-sludged, and fine sand is recovered to achieve a reasonable particle size ratio, and the mud content is reduced to less than 0.7%.
2. Washing equipment for desilting, de-intermediation, and dewatering in coal washing plant, which can be used to recover coal slime with particle size <9mm. It is special equipment for slime dewatering operation. It is widely used for slime recovery and pressure filtration. Dewatering and recovery of filtration and other fine materials.
3, for tailings dry row, * mine dehydration and other operations. It can process fine-grain grade minerals, used for automatic separation of slag water, tailings dry discharge technology, etc. It can also be used together with cyclone as a tailings dry discharge recovery machine, and the dehydration efficiency is very G.
4. The screening device for environmentally friendly use of waste materials has a large processing capacity and good dewatering effect and is suitable for dewatering and screening of materials with G frequency and G vibration intensity.
New Zealand has a wide variety of mineral resources. The main resources are gold, silver, iron, ferrotitanium, platinum, coal, sulfur, phosphate, and petroleum. Statistics show that New Zealand has proven mineral resources worth S$51 billion (US$1 to S$1.42), but the total annual mining value is only S$1 billion, accounting for only 1% of GDP. This shows that New Zealand mining has great potential for development. Lzzg sand-making, sand-washing, vibrating screen, drum screen, and other equipment have been recognized by customers in Australia, New Zealand, and other countries, the quality is reliable, the price is more advantageous than similar products.