Chrome ore washing plant working principle

March.27,2021
Chrome is the main mineral used in the production of chromium concentrate. In the industrial production of beneficiation, gravity separation is generally used for beneficiation. Mainly spiral chute reselection and shaker reselection, or both are used together. The general process of chromium ore dressing plant is ore crushing, ore grinding, spiral chute selection, spiral chute sweeping, and shaker selection. There are also concentrate dehydration, tailings dehydration and recycling. Chromite generally has a coarser grain size and a fineness of about 30 meshes. Different regions can reach different grades of chromium ore beneficiation concentrate. The grade of easy-dressing chromium ore concentrate can generally reach about 50%, and the recovery rate is more than 75%.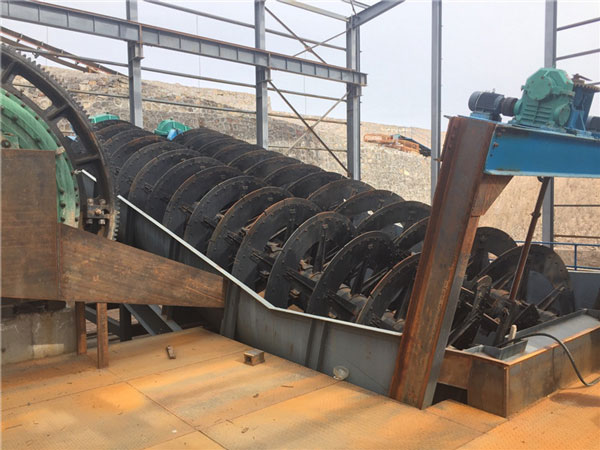 Beneficiation of chrome ore
The beneficiation of chrome ore generally rarely uses a single beneficiation process for separation, but a combination of multiple beneficiation processes and beneficiation equipment to achieve the best beneficiation effect. Therefore, chromium ore concentrator, chromium ore beneficiation equipment is usually a group of equipment rather than a simple equipment or machine. The beneficiation of chromite ore mainly adopts the methods and equipment of gravity separation and strong magnetic separation. There are also examples of using flotation to process chromite. However, due to the difference in the nature of the ore, the flotation of chromite is not widely used.
The particle size of chromite ore embedded in the ore is generally coarse, and there is a large difference in specific gravity between ferrochrome and waste rock, which meets the two major indexes of gravity separation. Therefore, the chromite ore beneficiation is based on gravity separation. Law-based. The reselection equipment used includes jigs, shakers, etc. The jigging machine has large processing capacity, good beneficiation effect, small floor space, energy saving, high efficiency and other advantages. In contrast, the shaker has a large floor area and a single device has a small processing capacity, and is often used as an auxiliary jig The working equipment cannot complete the beneficiation of chromite ore alone. Ferrochromium has good magnetic permeability and can be used to obtain fine-grained chromite by magnetic separation. The process flow is simple and easy to operate. The basic flow is crushing-ball mill-classification-magnetic separation.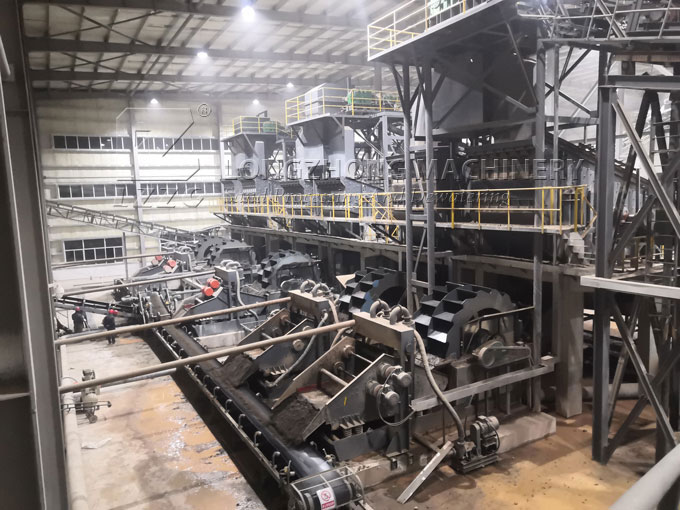 The chromium ore washing plant in South Africa mainly uses crushers, screening machines, ore washing machines, sorting or heavy-medium beneficiation equipment to process the richer lumps of crystal grain size group. The Don River chrome ore washing plant in the South Kempirsai mining area of ​​West Kazakhstan, the Soviet Union adopts heavy-medium beneficiation equipment-jig-shaker-grinding-spiral concentrator-strong magnetic separator and other chromite washing equipment mine. The Chromium Ore Washing Plant in Difens, Oregon, U.S. uses chrome ore washing equipment including shakers, ore washers, dry weak magnetic separators, dry strong magnetic separators and flotation machines to treat the hard-to-dress high iron ore. Seashore placer of chrome ore.
Our company is a non-ferrous metal beneficiation equipment manufacturer that specializes in the production of mining beneficiation machinery, integrating scientific research, production and sales. The various beneficiation equipment produced are of reliable quality, stable performance, and high technical content. It is sold well in Yunnan, Hunan, Liaoning, Guangxi, Guizhou, Gansu, Sichuan, Shaanxi, and other provinces, cities and regions, and exported to Indonesia, Vietnam, the Philippines, and South Africa. It has also gradually entered foreign markets such as Malaysia, Myanmar, and so on. The complete set of beneficiation equipment produced by our factory includes: crusher series, ball mill series, jig machine series, shaker series, spiral chute series, dry magnetic separator series, wet magnetic separator series, ore washing classifier series, screening separator series , Transportation and feeding equipment, widely used in: manganese ore, limonite, chromite, zirconium, tungsten, titanium, zirconium, rutile, monazite, tantalum niobium, rare earth, lead, zinc, antimony, garnet, red, green Pillar, quartz, kaolin and other metal and non-metallic weak magnetic minerals are processed, selected, purified, and beneficiated.