Bentonite production process and equipment

February.23,2022
Bentonite is a water-containing clay mineral dominated by montmorillonite, with a hardness of 1 to 2 and a density of 2 to 3 g/cm³. It is a soft non-metallic mineral, also called bentonite, bentonite or bentonite. According to the properties of bentonite, the equipment used in the bentonite production line mainly includes jaw crusher, impact crusher, Raymond mill, and some auxiliary equipment, such as elevator, feeder, powder separator, conveyor. , dust collectors, blowers, etc.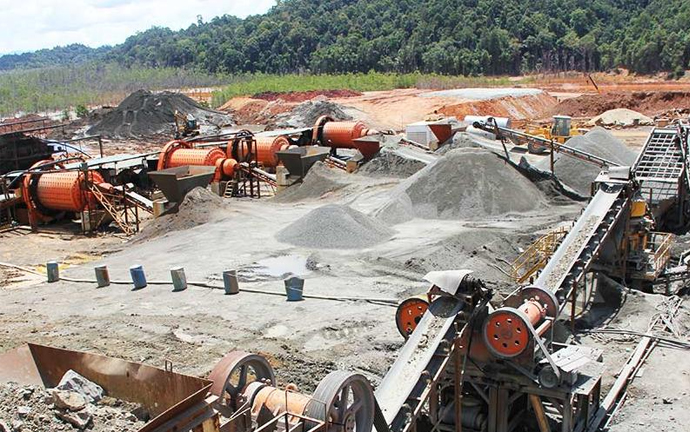 Bentonite processing process
The feeder sends the bulk bentonite to the jaw crusher for coarse crushing first, and the coarsely crushed bentonite material is sent to the impact crusher by the belt conveyor for medium and fine crushing. The impact crusher has a very good effect on the bentonite. After medium and fine crushing, the bentonite with qualified particle size is sent to the storage bin by the bucket elevator, and the unqualified bentonite is transported back to the impact crusher for continuous crushing; the vibrating feeder uniformly and quantitatively sends the qualified material into the Raymond mill. Grinding in the powder machine, Raymond mill output can be adjusted between 80-325 mesh, high sieving rate and fine finished product. After the Raymond mill grinds the powder, the particle size is sorted by the classifier at the top of the grinding chamber. The qualified particle size is sent to the finished material pile, and the unqualified material is returned to the grinding chamber to continue grinding, forming a closed loop.
What is the use of bentonite after grinding?
Bentonite has good physical and chemical properties, and has very strong swelling, cohesion, adsorption, catalysis, thixotropy, suspension and other characteristics. , suspending agent, stabilizer, filler, feed, catalyst, etc., widely used in agriculture, light industry, cosmetics, medicine and other fields. The ground bentonite can also be used as waterproof material, such as bentonite waterproof blanket, bentonite waterproof board and its supporting materials.