Modular Sand Washing Plant | Very Small Footprint

January.18,2021
Modular sand washing recycling, tail water purification, solid waste dry discharge equipment. It is suitable for mining, aggregate processing, urban construction waste incineration, ceramic raw material processing, silica sand production and processing, various metal mine tailings treatment, and solid waste dry heap treatment. The modular sand washing plant solves the problems of large equipment area, poor treatment effect, complicated material transportation, uneconomical and environmental protection in traditional equipment applications.
Through the small silo, the material cleaning, screening, dewatering, and recycling operations are completed on the upper level of the workstation to produce finished sand. The tail water produced by the above operations is pumped to the square thickener, and thickened in the deep cone thickener. The thickened sludge is then sent to the automatic pull plate filter press through the special pump of the filter press to complete the filter press operation.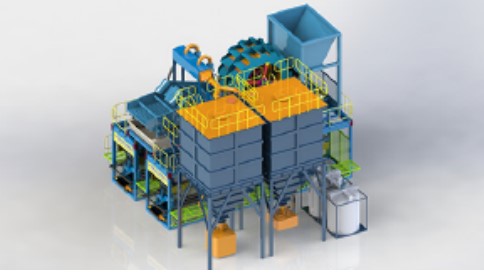 Features & Innovation
▪ Integrated workstation design, integrated sand washing, recycling, dewatering, thickening,
Press filter and other functions in one.
▪ Three-dimensional layout, small footprint and large processing capacity.
▪ Combination frame design, modular assembly, more freedom of model change space
High, greater flexibility in disassembly and assembly.
▪ Fully automated control to achieve full feed volume, output, electricity, water volume, etc.
Surface measurement, economic benefits and operating costs are intuitive and controllable.