Preparation of high-quality sand gravel aggregate from iron tailings

November.06,2020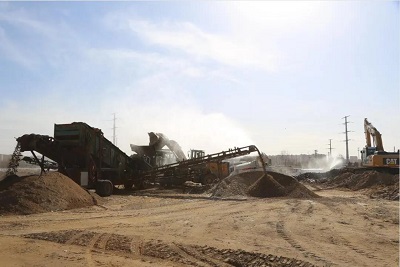 Iron tailings as raw material for sand and gravel aggregate
The main innovations of the program are as follows
1. Aiming at the status and resource characteristics of bulk iron tailings, through in-depth research and production tests, an integrated process of "three-stage crushing + five-stage beneficiation + three-stage dry and wet screen + sand washing" has been formed, and it can build 1 million per year Production line for tons of aggregates.
2. Developed a new type of sand hopper and unloading device to solve the problem of high water content and stone powder content in machine-made sand; developed a new type of circular vibrating screen material buffer device to improve the screening efficiency; adopts a high-efficiency recycling process for mining pit water, Achieved "zero" new water consumption; through technical measures such as belt fixed-point heating, the technical problems of wet production of machine-made sand in winter in the north were solved; the DCS intelligent control system matched with the tailings machine-made sand production line was developed to achieve high intelligence produce. Machine-made aggregate products meet the requirements of relevant standards and meet the requirements of high-strength concrete preparation. Products have been used in important infrastructure projects such as subway projects, municipal civil construction projects, and highway construction.
3. This achievement has the characteristics of high resource utilization, intelligence, low energy consumption, high operation rate, etc. The main products are sand and gravel aggregates, coarse concentrates, dry beneficiation ore, etc., with considerable economic benefits. The utilization and consumption rate of tailings reaches 100%; this project solves the problem of bulk iron tailings stacking management, eliminates safety hazards, and provides a brand-new solution for the comprehensive utilization of domestic bulk iron tailings.