Portable Sand Aggregate Screening Plant For Sale

August.12,2021
Brief Introduction of Portable Sand Screening Workstation
Through the crawler walking structure, the mobile operation of the washing machine is realized, and the operation mode is more flexible. Oil and electricity dual power, either external power supply or diesel only. Through two cleanings, the sand washing effect is good and meets the sand washing requirements of materials with higher mud content. Carry out sand washing and recycling of sand washing sewage to improve resource utilization. It can be equipped with satellite positioning and lock function, and supports various forms of commercial sales and cooperation. Advanced technology, intelligent monitoring and control system, with wireless remote monitoring, data transmission, data analysis and remote control functions.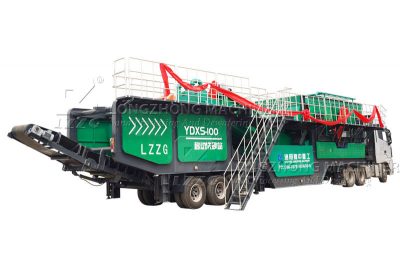 [Product name]: Crawler-type portable sand washing and screening plant
[Feed size]: ≤10mm
[Treatment water volume]: 50-270t/h
[Applicable materials]: River pebble, granite, limestone, basalt, coal gangue, weathered sand, river sand, yellow sand and other materials.
[Scope of application]: This equipment has been widely used in sand quarries, mines, construction sites, highways, road and bridge construction, concrete mixing plants, water conservancy and hydropower, chemical industries and other industries.
[Applicable production line]: Production lines for sand making from river pebble, sand making by granite splitting, limestone crushing and grinding, basalt crushing and sand making, coal gangue crushing and sand making.
Structural composition: It is mainly composed of power system, walking system, hydraulic drive and steering system, working system, control system, etc.; it can also support remote positioning and locking, fault monitoring, information collection, wireless remote control and other system configurations.
Main components: crawler device, hydraulic motor and planetary reducer, generator set (including engine and generator), hydraulic workstation, control cabinet, frame, working device (spiral sand washing + wheel sand washing + fine sand recovery + dehydration) , Work platform, walking remote control device, and optional satellite positioning mechanism, information monitoring and information transmission system, etc.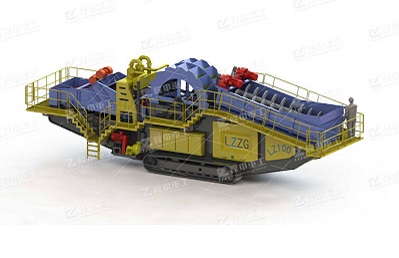 working principle
After the sand and gravel materials are classified and filtered by the screening equipment, the qualified products flow into the spiral sand washing machine through the trough or pipeline. After the screw mixer is fully cleaned, soaked, and broken (more effective for mud, the effect is very good), the sand and the impurities, mud, etc. are fully separated. Fine sand and muddy water are deposited on the tail of the spiral washing machine, and the fine sand is recovered by a thickening and recovery device. Then the coarse and fine sand and gravel enter the wheel-type sand washer for secondary cleaning at the same time to realize the complete separation of the sediment. Then the coarse sand is picked up by the impeller of the wheel sand washer and enters the feeding end of the high-frequency dewatering screen. At the same time, the overflowing muddy water flows into the high-frequency dewatering screen tank through the pipeline, and then is recycled into the high-frequency dewatering screen through the thickening and separating device. Through the vibration and dehydration of the sieve, the sand and gravel can be cleaned, recycled, dehydrated and discharged in a dry pile.