High-efficiency beneficiation process of manganese ore

July.13,2023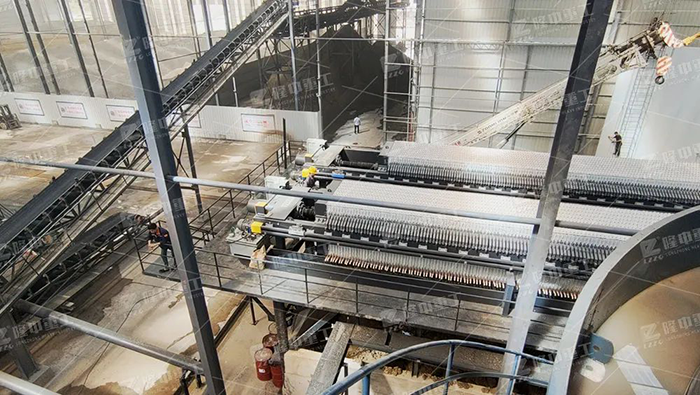 The characteristic of manganese ore is that there are many lean ores and ores containing impurities. Most manganese ores need to be processed to obtain high-quality commercial-grade concentrates. However, since most manganese ores are fine-grained or micro-fine-grained, and there are a considerable amount of high-phosphate ore, high-iron ore and associated beneficial metals, it brings great difficulty to the mineral processing. At present, the commonly used beneficiation methods are mechanical beneficiation (including ore washing, screening, gravity separation, strong magnetic separation and flotation), pyro-enrichment and chemical beneficiation.
1. Ore washing and screening
Ore washing is to use water washing or additional mechanical scrubbing to separate the ore from the mud. Commonly used equipment includes ore washing screens, cylinder washing machines and trough washing machines.
Ore washing operation is often combined with screening operation, such as washing directly on the vibrating screen or sending the placer obtained by the ore washing machine to the vibrating screen for screening. Screening can be used as an independent operation to separate products of different particle sizes and grades For different purposes. Ore washing and screening operations can not only improve the grade of selected ore, but also significantly improve the smooth operation of subsequent operations.
2. Re-election
At present, gravity separation can only be used for separation of manganese ore with simple structure and coarse particle size, especially for manganese oxide ore with high density. And so on ore dressing.
The conventional process for processing manganese oxide ore is to crush the ore through jaw crusher or high
3. Strong magnetic separation
Manganese minerals belong to the iron group weak magnetic minerals. Although there are many types of ores, the basic beneficiation method is similar to that of weak magnetic iron oxide. It can be recovered in a strong magnetic field magnetic separator with a magnetic field strength of 10000~20000GS (Oe), which can generally increase the manganese. The concentrate grade is 4~15%.
Due to the simple operation of strong magnetic separation, easy production control, strong adaptability, and good environmental protection, it can be used for the separation of various manganese ores. , Fine-grain strong magnetic separator has been successfully developed one after another.